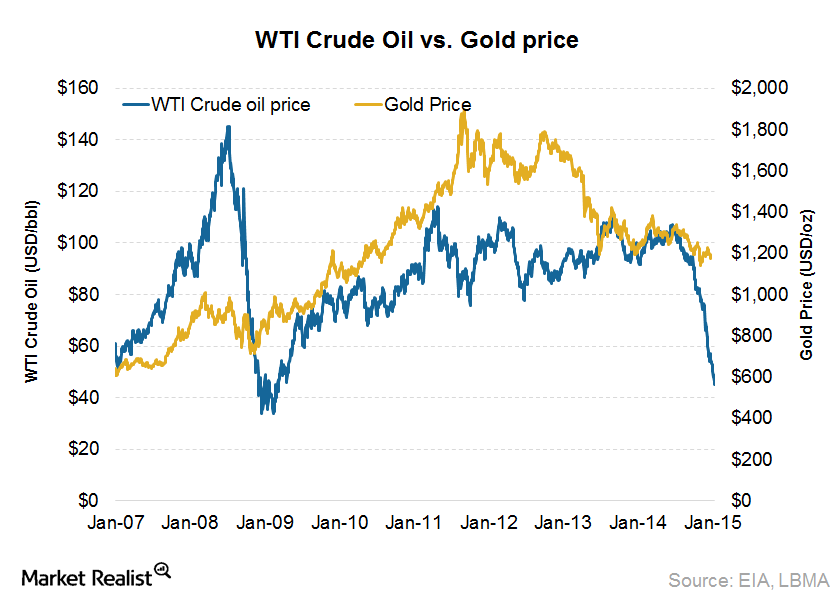 Low crude oil prices impact gold
Oil prices continue to fall
Crude oil prices are reaching new lows each day. This came after predictions that oversupply would keep on building after the decision of the Organization of the Petroleum Exporting Companies (or OPEC) to not cut production. Oil touched new lows after Saudi Arabia reiterated its stand not to cut production at any cost. To find out more, read Market Realist's series Key gold indicators that you should keep an eye on.
In a report dated December 5, 2014, Morgan Stanley said oil prices could fall as low as $43 a barrel next year. It also cut its average 2015 Brent base-case outlook by $28, to $70 per barrel, and by $14, to $88 per barrel, for 2016.
Article continues below advertisement
Sharp price fall
The price of West Texas Intermediate (or WTI) crude oil (USO), the US benchmark, hovers at $45 a barrel. It has lost ~58% since June 2014 due to fears of oversupply amid rising US production of shale gas. In recent years, the United States has become less dependent on oil imports. The shale and fracking boom in the United States has pushed crude oil production to a 27-year high. US dependence on petroleum imports has declined by half since 2005.
Weak demand from China and the European Union as well as the global supply glut are other factors that are contributing to the price decline.
Many fund managers are citing that oil price weakness is one of the biggest risks to asset performance in 2015.
Cheaper oil and gold
Cheaper oil means lower inflation. This means gold should be affected negatively since it's usually considered a hedge against inflation. Lower oil prices are a positive for US spending on other items.
Spending accounts for two-thirds of the US economy. This signals better economic prospects. Better economic prospects and lower inflation are positives for equities and negatives for gold. This will negatively impact gold prices (GLD) and companies such as Goldcorp (GG), Barrick Gold Corporation (ABX), Newmont Mining Corporation (NEM), and Yamana Gold (AUY). ETFs such as the Gold Miners ETF (GDX) that invest in these stocks are also likely to suffer.