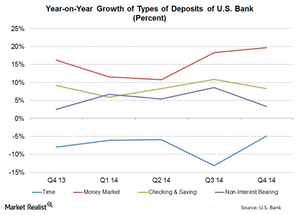 Low-cost deposit growth is a key strength for U.S. Bank
By Saul Perez

Nov. 20 2020, Updated 10:43 a.m. ET
Not all bank deposits are the same
Most of you know that accepting deposits is one of a bank's key activities. However, there's one very important fact many of you don't know. There are many types of deposits. Not all of the deposits are equally beneficial for a bank.
Primarily, deposits can be divided into four types:
Time deposits
Money market deposits
Checking and saving account deposits
Non-interest bearing deposits
Out of these four types, non-interest bearing, saving and checking account deposits, and money market deposits are considered to be low-cost deposits. So, a growth in these three types of deposits is considered to be better.
Article continues below advertisement
U.S. bank has a higher growth rate of low-cost deposits
U.S. Bank does well at increasing its low-cost deposit base. In 4Q14, money market deposits grew the fastest at 19.7%—compared to 4Q13. Checking and saving account deposits grew at 8.3% and 3.3%, respectively—compared to 4Q13. In contrast, time deposits are the costliest deposits for a bank. They fell by 4.9% for U.S. Bank—compared to 4Q13. This will help the bank reduce the cost of deposits. It will help the bank in the long run.
U.S. Bank outpaced the sector growth rate
Compared to other banks, we can say that U.S. Bank outpaced the sector's growth of deposits. U.S. Bank's growth of deposits was 7.9%—5.5% adjusted for acquisition. The sector-wide growth of deposits was in the range of 3%–4%. JPMorgan Chase grew its deposits the fastest. To learn more, read An overview of JPMorgan Chase's 4Q results.
JPMorgan Chase (JPM) is followed by Bank of America (BAC), Wells Fargo (WFC), and Citibank (C). All of these banks are a part of the Financial Select Sector SPDR (XLF).