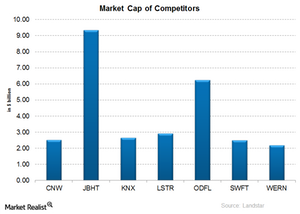 What are Landstar's competitive advantages?
By Ally Schmidt

Updated
Major competitors
Landstar System (LSTR) is among the top trucking firms in the US. Landstar faces stiff competition from companies such as J.B. Hunt Transport Services (JBHT), Knight Transportation (KNX), Con Way (CNW), Swift Transportation Company (SWFT), and Old Dominion Freight Line (ODFL). These firms are part of the iShares Transportation Average ETF (IYT).
Article continues below advertisement
Landstar's competitive advantages
Although it faces brisk competition from other major trucking firms, Landstar System enjoys several advantages in the trucking space.
Landstar's unique business model does not require the company to own any equipment. This model gives the company lower operating leverage than asset-based truckers.
Landstar specializes in irregular routes and odd-size freight, and 33% of its sales represents flatbed business.
The company has a customer base of more than 26,000 shippers, which allows significant buying power.
Landstar's vast network of third-party truckload carriers creates a robust value proposition for shippers, particularly during periods of tight supply.
The company saw growth in its network of BCOs and third-party contractors, even in 4Q14, when the industry faced a driver shortage.
Landstar has a huge sales force network of 8,000-plus captive owner-operators and 35,000 broker-carriers. This network, its customers, and its ability to procure capacity more efficiently and at lower rates is a difficult capability for small providers to duplicate.
Rather than hiring a dedicated sales force, the company contracts with a large network of independent, commission-based sales agents.
Landstar has a variable-cost structure with relatively low capital intensity that helps it generate robust returns on invested capital. These returns were as strong as 27% over the past five years.
The company's biggest customer is the US Department of Defense.
Third-party logistics providers (or 3PL) such as Landstar perform better during supply disruptions, when they can step in and secure trucks among their large networks of small carriers. Because of this model, the company is expected to expand faster with more for-hire truckload and less-than-truckload freight.