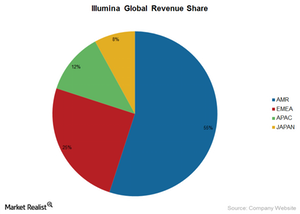 Why Illumina's outlook is so bright
Analysts upgrade Illumina stock
Illumina has posted outstanding 3Q14 results and its future outlook as well as its earnings continue to be bullish. The demand for the company's NextSeq has been strong, which has lead to exceptional performance in the field.
Illumina's NextSeq 500 desktop sequencing system provides the flexible power and simplicity to analyze whole genomes, exomes, and transcriptomes. Many of the firm's customers are currently exploring NextSeq in translational or clinical production settings, which will likely drive demand in the upcoming quarters.
Article continues below advertisement
Article continues below advertisement
HTG announces IVD agreement with Illumina
HTG Molecular Diagnostics is a provider of instruments and reagents for molecular profiling applications. The company announced in October 2014 that it entered into an agreement with Illumina under which HTG will have the right to develop certain in-vitro diagnostic (or IVD) test kits that utilize Illumina sequencing technology.
HTG management has stated, "Pairing the HTG EdgeSeq chemistry and automation platform with Illumina sequencing technology is a powerful combination for developing diagnostic panels that enable local molecular labs to adopt sequencing for routine clinical use."
Illumina partners with US government to fight Ebola
Illumina has teamed up with the US government and academic researchers at the Broad Institute in Boston in order to train scientists in West Africa to improve the tracking of how the Ebola virus is mutating in hopes of fighting it more effectively.
This public-private partnership seeks to understand the mutation of the Ebola virus in real time, as scientists are in need of the information to develop new diagnostics, drugs, and vaccines to fight the outbreak.
Article continues below advertisement
The firm's management announced that, "Sequencing and patient monitoring facilities will be created first in Liberia, Nigeria, Senegal, and Sierra Leone, and over the longer term in other West African countries." These centers will then serve as hubs for deployment of mobile laboratories in remote districts where such large-scale capacity is unavailable.
The 5-year CAGR (compound annual growth rate) revenue has been steady and above industry average at 20% for Illumina with a market opportunity of $20 billion to ensure long-term growth of the firm.
Viking Global's other positions