How Landstar System makes money
Landstar's success lies in its ability to provide a complete logistics solution through various transportation modes and up-to-date technology.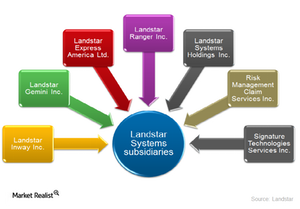 About the company
An asset-light third-party logistics provider, Landstar System (LSTR) is among the top trucking firms in the US. In this article, we will explore how Landstar makes money. The company provides services in two market segments: transportation logistics and insurance. The company provides these services through its subsidiaries, as shown in the following chart.
Article continues below advertisement
Article continues below advertisement
Logistics services
Landstar System provides its logistics services to its customers in the United States, Canada, Mexico, and various other countries across various transportation modes such as trucks, airways, rail intermodal, and ocean services. The company delivers its services through a network of about 1,400 independent commission sales agents and many third-party owner operators, supplying more than 8,400 tractors and 14,300 trailers. These are coordinated using a series of information technology systems provided and managed by the company.
The US military is a major customer of Landstar. Other industries served by the transportation logistics segment include:
automotive products
building products
metals
chemicals
foodstuffs
heavy machinery
retail
electronics
ammunition and explosives
military equipment
The insurance segment consists of Signature Insurance Company, a wholly owned offshore insurance subsidiary, and Risk Management Claim Services, both of which offer insurance programs to captive owner-operators.
Business services
The list of major services provided by Landstar System include:
optimization of the order-to-cash process
truckload/LTL
freight management services
van, flatbed, over-dimensional
freight optimization
trailer pools
complete carrier visibility
emergency/expedited
warehousing
air, ocean, and rail/intermodal
The company faces stiff competition from YRC Worldwide (YRCW), Swift Transportation (SWFT), and Werner Enterprises (WERN), to name a few. These companies are a part of the iShares Transportation Average ETF (IYT). However, the company's success lies in its unique business model and its ability to provide a complete logistics solution through various transportation modes and up-to-date technology.
We will discuss the company's segments and services and business model in detail in the following articles.