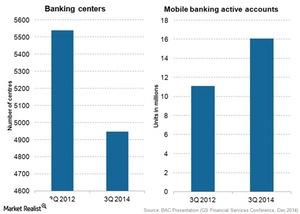 Why consumer banking is important for Bank of America
Banking first
Consumer and Business Banking is Bank of America Corporation's (BAC) largest segment. It contributes about a third of the bank's total revenues.
Bank of America (BAC) is similar to its peers JPMorgan Chase (JPM), Wells Fargo (WFC), and Citigroup (C) in this regard. Core banking activities contribute the biggest chunk of revenues for all these four banks. Most of the other banks in the Financial Select Sector SPDR ETF (XLF) also have traditional banking activities as their biggest revenue source.
Article continues below advertisement
Article continues below advertisement
Changing customer preferences
Bank of America (BAC) has a network of about 5,000 banking centers and 16,300 ATMs (automated teller machines). It has around 30 million active online banking and 16 million active mobile banking accounts.
The above graph shows Bank of America's focus on adapting to changes in consumer preferences. As the demand for mobile banking has been growing, the bank's active mobile banking accounts rose from 11.1 million to 16.1 million over the last two years. At the same time, the bank reduced its banking centers to optimize costs.
Complete banking solutions
Bank of America's (BAC) Consumer and Business Banking segment offers credit, banking, and investment products and services to consumers and businesses. Its deposit products include the following:
savings accounts
money market savings accounts
CDs (certificates of deposit)
IRAs (individual retirement accounts)
checking accounts
other
The segment also offers investment advice and client brokerage asset services targeted at customers with less than $250,000 in investable assets through its Merrill Edge service. Its Business Banking division provides commercial loans, lines of credit, real estate lending, and other services to US-based companies usually with annual revenues ranging from $1 million to $50 million.
Consumer lending
Bank of America's (BAC) Consumer Lending division offers credit and debit cards to consumers and small businesses. It also offers consumer loans such as auto loans and other consumer personal loans. The division primarily earns interest income through its lending activities. Noninterest income includes interchange revenue from credit and debit card transactions, annual credit card fees, and other miscellaneous fees.