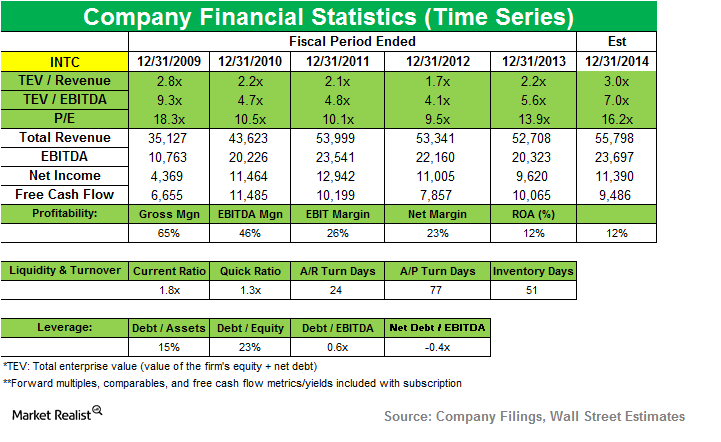 Bridgewater Associates reduces position in Intel
By Adam Rogers

Jan. 23 2015, Updated 12:05 p.m. ET
Bridgewater Associates and Intel
Bridgewater Associates' new positions in 3Q14 include American Express (AXP) and United Parcel Service (UPS). Positions sold include ConAgra Foods, Inc. (CAG) and Carnival Corp. (CCL). The fund increased its position in United Technologies Corp. (UTX), Analog Devices (ADI), and CA, Inc. (CA). It decreased its stake in Intel (INTC), Microsoft (MSFT), and Ventas, Inc. (VTR).
The hedge fund reduced its position in Intel. According to 13F filings for 3Q14, it accounts for 0.19% of the total portfolio—compared to 0.26% in 2Q14.
Article continues below advertisement
About Intel 
Intel is an American multinational corporation. It was founded in 1968. It's headquartered in California. According to revenue, Intel is the world's largest and most valued semiconductor chip maker.
Intel has a number of segments. The segments have computing offerings:
Advanced integrated digital technology platforms
CPUs (central processing units) for PC and server markets
Chipset and motherboard products for computers and communication products
Flash memory through its IM flash technologies, or IMFT, NAND flash joint venture with Micron
Intel lost a court challenge
In June 2014, it was revealed that Intel lost a court challenge. Allegedly, the firm tried to thwart rival Advanced Micro Devices (AMD) by giving rebates to PC makers—Dell, Hewlett Packard, NEC, and Lenovo—for buying computer chips from Intel in 2009.
The competition authority at the European Union, or EU, stated that Intel also paid German retail chain Media Saturn Holding to stock computers with its chips.
Article continues below advertisement
Struggle in tablet and smartphone segment
Intel, like its peer Microsoft, didn't initially realize the significance of mobile computing. With European and US smartphone markets already showing saturation signs, Intel shifted its focus towards China to play catch up.
Intel wants to expand into the smartphone and tablet markets. Currently, the market accounts for a small portion of Intel's business. The company's mobile and communications group reported an operating loss of $1.04 billion on revenue of $1 million. The loss was a result of subsidies the company paid to tablet makers to use Intel chips.
In late September 2014, Intel announced its plans to buy a 20% stake in Spreadtrum Communications and RDA Microelectronics. Intel also partnered with Rockchip—a company that uses Intel chips in its products. With these moves, Intel aims to establish its foothold in the emerging Asian and African smartphone and tablet markets.
The next part in this series will discuss Bridgewater Associates' position in Microsoft.