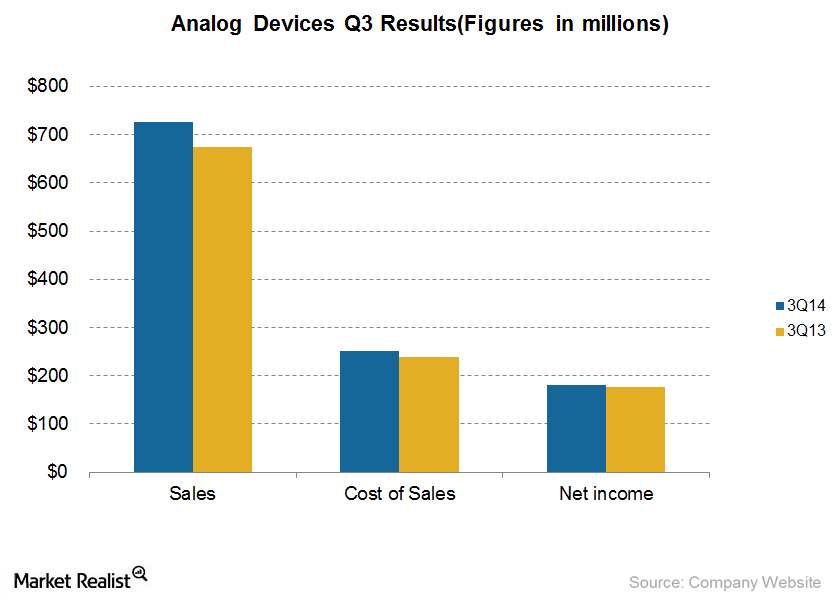 Bridgewater Associates increases position in Analog Devices
By Adam Rogers

Jan. 22 2015, Updated 2:05 p.m. ET
Bridgewater Associates and Analog Devices
Bridgewater Associates' new positions in 3Q14 include American Express (AXP) and United Parcel Service (UPS). Positions sold include ConAgra Foods, Inc. (CAG) and Carnival Corp. (CCL). The fund increased its position in United Technologies Corp. (UTX), Analog Devices (ADI), and CA, Inc. (CA). It decreased its stake in Intel (INTC), Microsoft (MSFT), and Ventas, Inc. (VTR).
The hedge fund increased its position in Analog Devices. According to 13F filings for 3Q14, it accounts for 0.16% of the total portfolio.
Article continues below advertisement
About Analog Devices
Analog Devices is an American-based semiconductor company. It specializes in data conversion and signal conditioning technology. It's headquartered in Massachusetts. It was founded in 1965. The company manufacturers analog, mixed signal, and digital signal processing integrated circuits used in electronic equipment.
Analog Devices has a customer base of over 70,000. Its business is divided into the following segments:
Communications
Computer
Industrial
Instrumentation
Military
Automotive
Electronic Appliances
3Q14 results
In September 2014, Analog Devices announced its 3Q14 results. It reported revenue of $727 million—compared to $674 million in 3Q13. This was an increase of around 8%. The net income also increased from $176 million in 3Q13 to $180 million in 3Q14. Analog Devices paid ~$173 million to shareholders through cash dividends and share repurchases.
The outlook for 4Q14 is also positive. Its expected revenue is $790–$820 million. Its expected gross margins are 66.2%.
Analog Devices acquired Hittite for $2 billion
In July 2014, Analog Devices announced that it completed the acquisition of Hittite Microwave Corporation in an all-cash transaction. The purchase price was $78 per share. This reflected a total enterprise value of ~$2 billion.
As stated by Analog Devices' president and CEO, Vincent Roche, "ADI's portfolio now spans the entire frequency spectrum of RF, microwave, and millimeter wave, we believe now our customers will benefit from more complete solutions across a breadth of applications, including industrial instrumentation, aerospace and defense electronics, communications infrastructure, and automotive safety."
The acquisition adds critical radio frequency, microwave, and millimeter wave technology to Analog Devices' existing product portfolio.
The next part in this series will discuss Bridgewater Associates' increased position in CA, Inc.