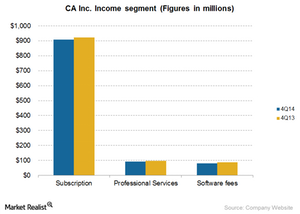 Bridgewater Associates adds position in CA, Inc.
By Adam Rogers

Jan. 23 2015, Updated 8:05 a.m. ET
Bridgewater Associates and CA, Inc.
Bridgewater Associates' new positions in 3Q14 include American Express (AXP) and United Parcel Service (UPS). Positions sold include ConAgra Foods, Inc. (CAG) and Carnival Corp. (CCL). The fund increased its position in United Technologies Corp. (UTX), Analog Devices (ADI), and CA, Inc. (CA). It decreased its stake in Intel (INTC), Microsoft (MSFT), and Ventas, Inc. (VTR).
The hedge fund increased its position in CA, Inc. According to 13F filings for 3Q14, it accounts for 0.15% of the total portfolio—compared to 0.06% in the last quarter.
Article continues below advertisement
About CA, Inc.
CA, Inc. is an American multinational company. It was founded in 1976. It's headquartered in New York. CA creates software that fuels companies' transformation. It enables the companies to seize the application economy's opportunities.
CA's software and solutions help customers drive enterprise-wide productivity. The software and solutions offer differentiated user experiences and open new growth opportunities. CA provides cloud, mainframe, and mobile services to clients. CA's portfolio includes the following segments:
Devcenter Services
Intellicenter Services
Opscenter Services
Securecenter Services
4Q14 results
In October 2014, CA declared its 4Q14 results. It reported revenue of $1.07 billion—compared to $1.10 billion in 4Q13. According to CA's management, total revenue declined 2%. This was mainly due to a decrease in subscription and maintenance revenue. The decrease was primarily due to a decrease in mainframe solutions revenue and, to a lesser extent, a decrease in professional services revenue.
Subscription fees and maintenance were the main source of revenue at $908 million. It was followed by professional services at $91 million and software fees at $80 million. The net income increased from $240 million in 4Q13 to $256 million in 4Q14. This was an increase of over 7% on a year-over-year, or YoY, basis.
CA sold Arcserve data protection business
In July 2014, CA announced that it entered into an agreement with Marlin Equity Partners to divest its Arcserve data protection business for $170 million. It recognized a gain on disposal of $19 million. This included a tax expense of $77 million. Now, the company will recognize all of the Arcserve business activity as "discontinued operations."
This deal was part of a plan to divest "non-core" assets. CA will focus on cloud management and enablement technologies.
The next part in this series will discuss Bridgewater Associates' decreased stake in Intel.