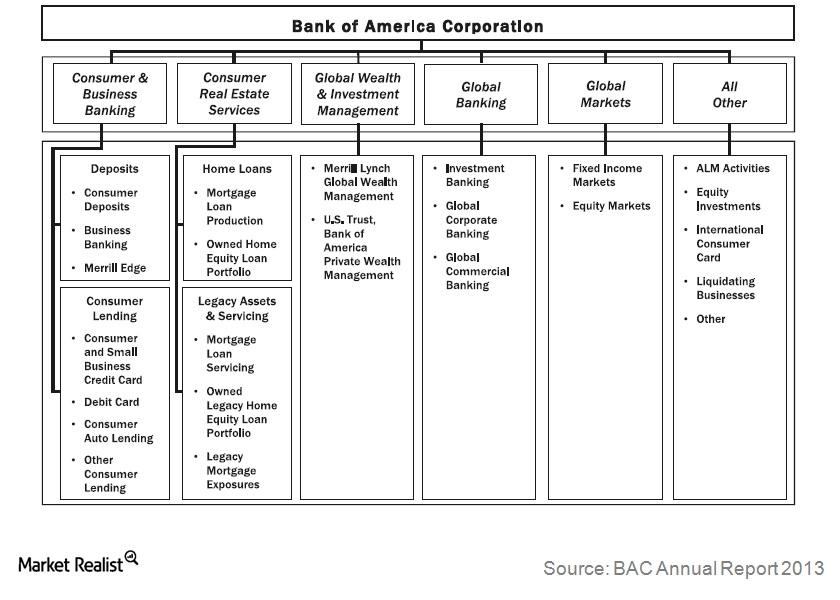 Bank of America's six operating segments
Bank of America's diversified operations
Bank of America Corporation (BAC) operates through the following five major segments: Consumer and Business Banking, Consumer Real Estate Services, Global Wealth and Investment Management, Global Banking, and Global Markets. The bank's other activities that don't fall under any of these five segments are categorized as All Other. The Consumer and Business Banking segment contributes a third of the bank's total revenues.
Article continues below advertisement
Article continues below advertisement
Bank of America has huge operations in consumer real estate space and has a separate segment for these services. The Home Loans subsegment under Consumer Real Estate Services undertakes loan production activities. Mortgage servicing activities related to loans held by the company and loans serviced for others are carried out by the bank's Legacy Assets and Servicing subdivision.
The Global Wealth and Investment Management segment provides wealth and investment management services to high net worth clients. These services are provided under the names Merrill Lynch Wealth Management and U.S. Trust.
The global banking and global markets businesses of the bank are marketed under the name Bank of America Merrill Lynch. The Global Banking segment provides investment banking and global corporate and commercial banking. The Global Markets segment provides research, market-making, financing, securities clearing, settlement, and custody services globally to institutional clients across asset classes.
Global operations
Although the domestic market is Bank of America's primary revenue source, the bank has significant global operations that contribute around 14% to its revenues. Europe, Middle East, and Africa (or EMEA) contributed 7%, and Asia contributed 5% to the bank's total revenues in 2013.
Bank of America's (BAC) peers JPMorgan Chase (JPM) and Citigroup (C) have much larger global operations. On the other hand, Wells Fargo (WFC) and most of the smaller banks in the Financial Select Sector SPDR ETF (XLF) have comparatively smaller international operations.
From what sources does Bank of America (BAC) generate its revenues? We'll see in the next part of this series.