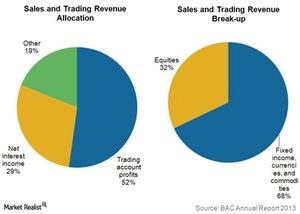 Bank of America's Global Markets operations
Sales and trading services
Bank of America's (BAC) Global Markets segment offers sales and trading services across asset classes to institutional clients. It provides market-making, financing, securities clearing, settlement, and custody services to institutional clients globally to support their investing and trading activities. It also provides research services and holds a leading name in this space. The bank has a strong sales and trading platform.
Sales and trading revenue primarily includes gains and losses on trading assets, net interest income, and commissions on equity securities. Trading assets include fixed income, currencies, commodities (or FICC) and equities.
Article continues below advertisement
Article continues below advertisement
Changes in fair values of trading assets are also recognized in the account profits. Fixed income includes sales and trading in government and corporate debt, commercial and residential mortgage-backed securities, collateralized debt obligations (or CDOs), and interest rate and credit derivative contracts.
Currencies include interest rate and foreign exchange contracts. Commodities primarily include activities in futures, forwards, swaps, and options.
Contribution to revenues
The above chart shows the break-up of sales and trading revenues for 2013. Around 70% of the revenues came from FICC sales and trading. The remaining portion came from equities. Sales and trading revenues are allocated primarily under trading account profits and net interest income. Trading account profits contributed 15% to the bank's total noninterest income in 2013.
JPMorgan Chase (JPM) and Citigroup (C) had much higher sales and trading revenues in 2013 compared to Bank of America. Goldman Sachs (GS), part of the Financial Select Sector SPDR ETF (XLF), also had higher sales and trading revenues than Bank of America in 2013.