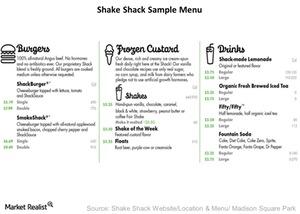 Analyzing Shake Shack's Fine-Casual Concept
The fine-casual concept
In the US, demographics are changing. Tastes and preferences are shifting. As a result, several new restaurant chains are reinventing the old wheel. They're combining the best parts of various restaurant formats. The different parts were successful in the past.
To learn more about the shifting demographic and different restaurant formats, read our series An in-depth overview of the US restaurant industry.
According to the SEC (US Securities and Exchange Commission) filing, Shake Shack is conceptualized as a "new fine-casual" restaurant format.
Article continues below advertisement
The menu
Shake Shack's menu offers burgers, crinkle-cut fries, hot dogs, shakes, soda, frozen custard, wine, and beer. For pet owners, Shake Shack also offers treats on its menu.
Looking at the items, it doesn't seem different from what other fast food chains have to offer—like Burger King (BKW), McDonald's (MCD), and KFC under the umbrella of Yum! Brands (YUM). These restaurants are included in the Consumer Discretionary Select Sector SPDR (XLY).
So, how's Shake Shack different? The answer may lie in the fine-casual concept.
The fine-casual concept differentiates Shake Shack
The fine-casual restaurant is a hybrid of the fine dining and fast-casual dining formats. The company uses high-quality ingredients and unique culinary inspiration from the fine dining format. It uses the convenience and value of the fast-casual format. Shake Shack's ingredients include "all-natural, hormone and antibiotic-free beef."
However, this is similar to Chipotle Mexican Grill (CMG) and Panera Bread (PNRA). Recently, these two restaurants announced new food policies. The new food policies are similar to Shake Shack's fast-casual concept. Read An in-depth overview of Chipotle Mexican Grill to learn more about Chipotle's food.
Shake Shack also took elements from fast food restaurants. As a result, customers receive their food quickly. The menu is limited and moderately priced. It's priced somewhere between fast food and casual dining restaurants.
In the next part of this series, we'll look at Shake Shack's revenues. We'll see if the fine-casual concept increased its sales.