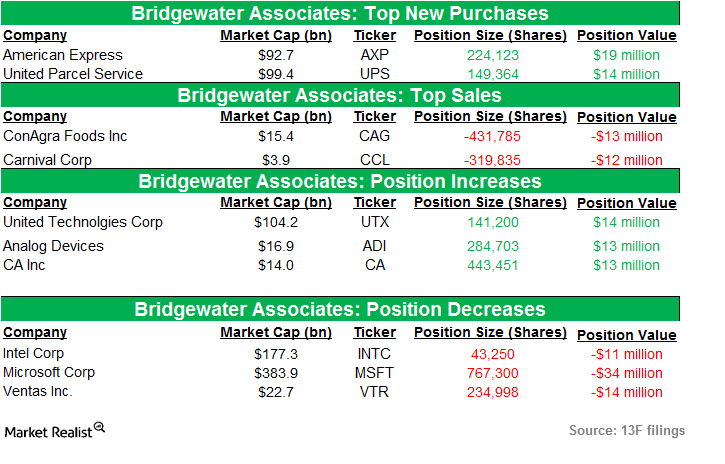 Analyzing Bridgewater Associates' positions in 3Q14
Bridgewater Associates' 3Q14 holdings
Bridgewater Associates is an American hedge fund. It was founded in 1975 by Ray Dalio. The firm manages ~$157 billion in global investments for a wide array of institutional clients. Its clients include foreign governments and central banks, corporate and public pension funds, university endowments, and charitable foundations.
Bridgewater Associates' top holdings include Vanguard International. It accounts for 36.05% of the total portfolio. The SPDR S&P 500 accounts for 26.52% of the portfolio. The MSCI Emerging Markets Index Fund accounts for 25.93% of the hedge fund's total portfolio.
Article continues below advertisement
Article continues below advertisement
Bridgewater Associates' new positions in 3Q14 include American Express (AXP) and United Parcel Service (UPS). Positions sold include ConAgra Foods, Inc. (CAG) and Carnival Corp. (CCL). The fund increased its position in United Technologies Corp. (UTX), Analog Devices (ADI), and CA, Inc. (CA). It decreased its stake in Intel (INTC), Microsoft (MSFT), and Ventas, Inc. (VTR).
The hedge fund has a market portfolio of over $12.8 billion—according to the 13F filings for the third quarter.
Bridgewater Associates' portfolio size decreased from $13.34 billion in the second quarter to $12.82 billion in the third quarter.
The hedge fund holds over 350 stocks.
The next part in this series will explore Bridgewater Associates' new position in American Express.