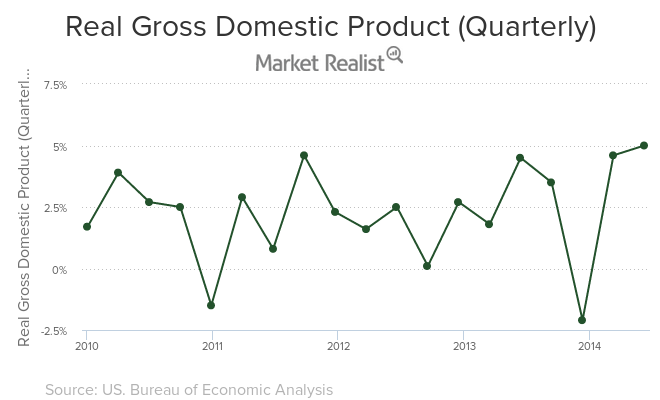 What 2 factors drive real GDP growth?
Real GDP growth drivers
According to Jeffrey Lacker, chief of the Federal Reserve Bank of Richmond, two fundamental factors contribute to gross domestic product, or GDP, growth in the long term. For the US, it's the lack of growth inertia in these two factors. This held back the overall growth in real GDP after the recession.
In the US, the recession drove down investments in broad market ETFs—like the SPDR S&P 500 ETF (SPY) and the iShares Core S&P 500 (IVV). It also drove down the iShares U.S. Real Estate ETF (IYR)—a real estate fund—and banks like Citigroup (C) and Bank of America (BAC).
[marketrealist-chart id=208036]
The two factors are:
Population growth
Real GDP per worker
Article continues below advertisement
There's also a third factor that caused differences in real GDP growth rates before and after the recession. The third factor is smaller. Lacker believes the difference is accounted for by the change in the employment-to-population ratio. The employment-to-population ratio accounts for the combined effect of changes in unemployment and labor force participation in the US economy.
Population growth
In the US, population growth slowed considerably in recent years. The prime working age is 25–54 years old. This population had been growing at an average annual rate of 1.3% before the recession. The growth declined after the recession. Also, the Baby Boomers moved out of the age range that's associated with peak labor force participation.
Real GDP per worker
Another factor that's a prime contributor to real GDP growth in an economy is the real GDP per worker estimate. The ratio also serves as a productivity measure in the economy. Since the recession ended, the measure of productivity increased at an average annual rate of 1.4%. This is well below the average rate before the recession.
As a result, part of the slowdown in the real GDP growth rate can be attributed to the decline in worker productivity.