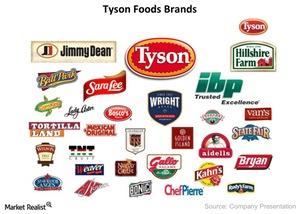 The Vast Expanse Of The Tyson Foods Product Portfolio
Tyson Foods product portfolio
Tyson Foods, Inc. (TSN) sells fresh, frozen, value-added, and refrigerated products. Some of its popular brands include Wright, Jimmy Dean, Ball Park, Hillshire Farm, etcetera. Hillshire Farm was recently acquired by Tyson Foods. We'll discuss the merger in detail later in this series.
The Tyson Foods product portfolio includes a variety of products such as value-added chicken, value-added beef and pork, pepperoni, pizza crusts and toppings, bread sticks, sausage, bacon, ham, deli meats, soups and sides, prepared meals, meal kits, breakfast items, hot dogs and franks, corn dogs, and commodity chicken, beef, and pork.
Article continues below advertisement
Article continues below advertisement
Brands
Under the Tyson brand, the company offers fresh chicken, frozen, cooked and uncooked chicken, and recipe meats. Under the Wright brand, the company offers stack pack bacon. Under Jimmy Dean, Tyson offers breakfast sausage and frozen protein breakfast. Under the Hillshire brand, the company offers smoked sausage and branded lunchmeat. Under the Ballpark brand, it offers hot dogs, and under the State Fair brand, it offers corn dogs.
Competing brands
It's not uncommon to find several brands of fresh chicken from companies like Pilgrim's Pride Corporation (PPC) and Sanderson Farms, Inc. (SAFM) on the shelves of retailers such as Wal-Mart Stores, Inc. (WMT) or Costco Wholesale Corporation (COST). Some of these companies are also held by SPDR S&P 500 ETF (SPY).
You'll also find products from smaller players such as Johnsonville breakfast sausages, Carolina Pride's and Smithfield's stack pack bacon, Oscar Mayer's and Boar's Head hot dog brands.
In the next part of this series, we'll look at the Tyson Foods distribution channels and the customers on the other end.