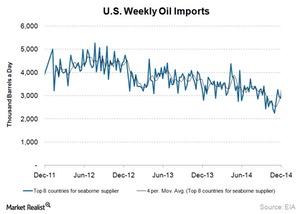 US crude imports dip on surging domestic production
By Katie Dale

Updated
US energy
Historically, the United States has been the largest oil importer. However, US domestic production is surging. The Energy International Association (or EIA) foresees the country becoming the largest producer of crude oil within the next few years, racing ahead of major oil-producing countries such as Russia and Saudi Arabia.
Article continues below advertisement
Oil imports experience downtrend
According to EIA data, for the week ended December 12, 2014, US crude oil imports averaged 7.1 million barrels per day, an increase of 564,000 barrels per day (bpd) from the previous week. For the last four-week average as of December 12, 2014, crude oil imports into the United States averaged 7.4 million bpd. This was 1.9% lower than the same period in 2013, due mainly to high domestically produced oil compared to imported oil.
Rising domestic production
For the week ended December 12, 2014, the United States recorded an average 9.14 million bpd compared to 9.12 million bpd recorded on December 5, 2014. This indicates a new record for weekly data spanning back to January 1983. An increase in US oil production from shale has led to a corresponding decrease in oil imports sourced from foreign countries.
Going forward
According to government forecasts, US crude production will surge to a 45-year high in 2015, lowering prices and reducing the need for imports. In December 2014, the EIA reduced its production output estimate to 9.32 million bpd for 2015 compared to 9.42 million bpd estimated in November 2014. Rising monthly crude oil production, which will approach 10 million bpd in late 2015, will also help cut US fuel imports to just 21% of domestic demand, the lowest since 1968.
If US crude production rises and imports decline, crude tanker companies such as Frontline Ltd. (FRO), Teekay Tankers Ltd. (TNK), Nordic American Tanker Ltd. (NAT), and DHT Holdings Inc. (DHT) as well as the Guggenheim Shipping ETF (SEA) will be negatively impacted. .