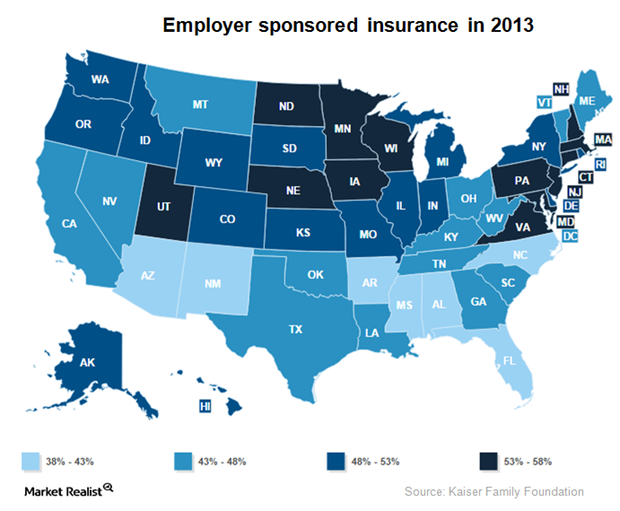 Why the unemployment rate affects hospital performance
Unemployment rate
The healthcare industry, represented by the Healthcare Select Sector SPDR (XLV), is affected by the unemployment rate, as income levels affect people's health choices. People delay non-emergency health decisions and those specifically associated with preventive health measures. A study by Health Services Research Journal revealed that a 1% increase in the unemployment rate led to a 1.58% decrease in the use preventive health services.
Article continues below advertisement
Article continues below advertisement
Employer-sponsored insurance
The above map shows the share of employer-sponsored insurance in the different US states. People with employer-sponsored insurance accounted for about 48% of the total population and 55% of the non-elderly population in the country. Loss of jobs leads to a reduction in health coverage. According to a study by the Kaiser Family Foundation, every percentage increase in the unemployment rate leads to an increase of 0.5% in the non-elderly population without health insurance.
Major for-profit hospital operators such as HCA Holdings (HCA), LifePoint Hospitals (LPNT), Community Health Systems (CYH), and Tenet Healthcare (THC) have benefitted from the reduction in the unemployment rate in the second and the third quarters of 2014. A decrease in unemployment leads to fewer Medicaid and uninsured admissions and more admissions with profitable commercial health insurance. As the unemployment rate continues to decrease—from 7.0 in November 2013 to 5.8 in November 2014—the share of employer-sponsored insurance should rise, boosting hospitals' profitability.
Mental and chronic ailments
A rise in the unemployment rate leads to an increase in admissions related to mental health such as depression, anxiety, and stress. Increasing stress levels further lead to chronic ailments such as cardiovascular diseases and hypertension. Mental illness and chronic disease hospitals can see better performance in Washington and Georgia, as they have a higher unemployment rate than the countrywide average.