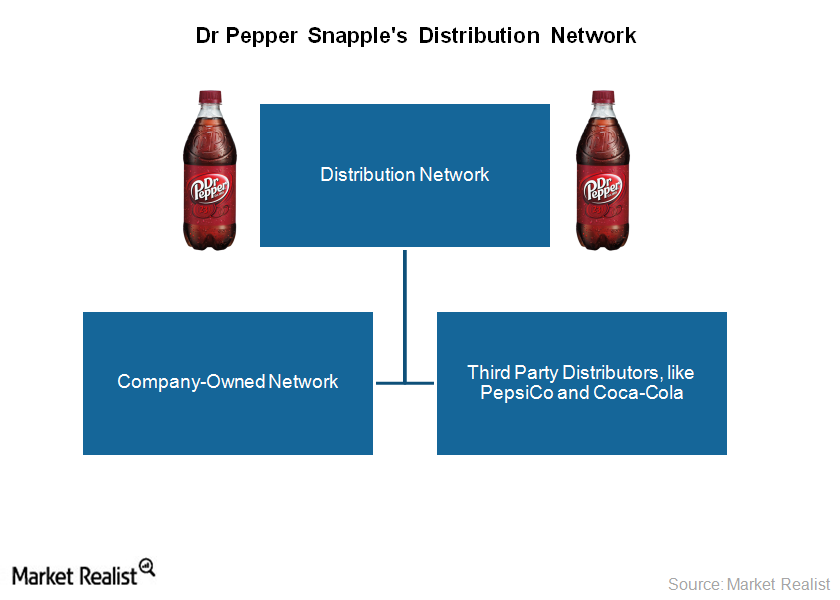 Understanding Dr Pepper Snapple's route to market
Distribution network
Dr Pepper Snapple Group Inc.'s (DPS) beverages reach the consumers through the company's own distribution network, third-party distributors, and direct delivery to customers' warehouses. In 2013, the company manufactured and distributed about 49% of the product volumes sold in the United States.
The company also manufactures and distributes certain third-party brands such as Big Red, FIJI, AriZona, Vita Coco, Neuro, and HyDrive in licensed territories.
Article continues below advertisement
Article continues below advertisement
Third-party distribution
In addition to manufacturing finished beverages at company-owned facilities, Dr Pepper Snapple sells its concentrates to third-party bottlers who combine them with carbonated water, sweeteners, and other ingredients and sell the finished beverage to retailers. In 2013, the company's concentrates business derived 47% of its net sales from PepsiCo Inc. (PEP) and The Coca-Cola Company (KO). These companies are part of the Consumer Staples Select Sector SPDR Fund (XLP) and the SPDR S&P 500 ETF (SPY).
Dr Pepper Snapple relies heavily on third-party bottlers for distribution of certain brands. For instance, in 2013, 63% of the volumes of the company's flagship soda brand, Dr Pepper, were distributed through Coca-Cola and PepsiCo affiliated bottler systems.
Distribution outside the United States
In Mexico, Dr Pepper Snapple has a presence in carbonated mineral water, flavored carbonated soft drinks, bottled water, and vegetable juice under key brand names such as Penafiel, Squirt, Aguafiel, Crush, and Clamato. Dr Pepper Snapple's Mexico business sells its products through its own distribution operations and third-party bottlers.
In the Caribbean, the company completely relies on third-party distributors and bottlers for the distribution of its products.
As of December 31, 2013, Dr Pepper Snapple's distribution network consisted of 113 distribution centers and warehouses in the United States and eight in Mexico.
Read more in this series to understand Dr Pepper Snapple's efforts to strengthen its distribution network.