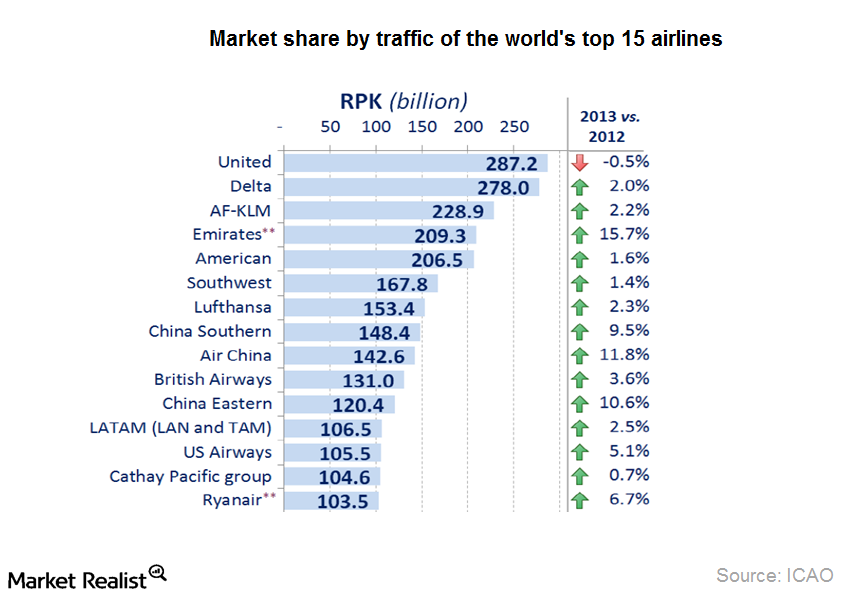 Top airlines by revenue passenger kilometers
Market share by traffic
Global passenger traffic has increased by 5.8% year-over-year during the first eight months of 2014. Europe increased 29.7%, Asia-Pacific 29.2%, and North America 25%. These regions comprise ~85% of the global market share by passenger traffic. Europe dominates the international market with ~40% of the market share, followed by Asia Pacific with 25%. In the domestic market, the United States and China are leading with a traffic share of 42.7% and 22.3%, respectively. Growth in traffic has been higher in the Middle East and Africa as well as Latin America.
Article continues below advertisement
Article continues below advertisement
World's top 15 airlines by passenger traffic
The above chart ranks the top 15 airlines in the world by passenger traffic in 2013. Five of those airlines are US airlines, including Delta Air Lines, Inc. (DAL), United Continental Holdings Inc. (UAL), American Airlines (AAL), Southwest Airlines Co. (LUV), and U.S. Airways (merged with American Airlines). United Continental Holdings Inc. (UAL) ranks first with 287.2 billion revenue passenger kilometers (or RPK) , followed by Delta Air Lines, Inc. (DAL) with 278 billion. Positions in the top US airlines are held by iShares Transportation Average ETF (IYT) and SPDR S&P Transportation ETF (XTN).
In 2013, the largest increase in traffic of 15.7% was reported by Emirates. The three Chinese carriers, China Southern (ZNH), China Eastern (CEA), and Air China (AIRYY) are among the top 15 and posted growth rates above 9%. Among the European airlines, Ryanair recorded the highest growth rate of 6.7%, followed by British Airways, Lufthansa, and AF-KLM. Growth rate of Latin American Airlines (or LATAM) was 2.5%, lower compared to airlines in other regions.