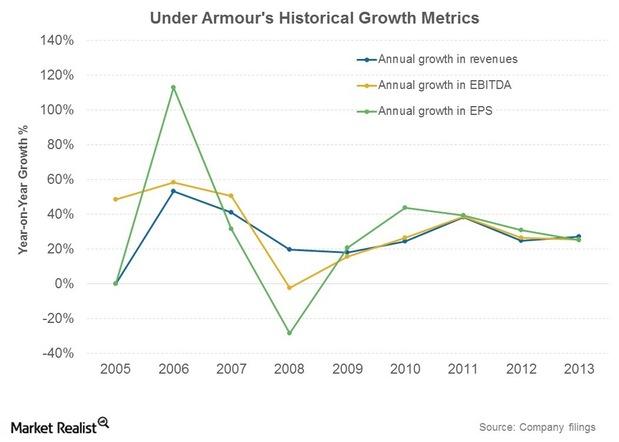 SWOT Analysis: Balancing Under Armour's Strengths And Weaknesses
How strong is Under Armour's business model?
In the next parts of this series, you'll read a SWOT analysis—looking at strengths, weaknesses, opportunities, and threats—of Under Armour, Inc. (UA). We'll also compare the company to rival firms, the overall market, and the consumer discretionary (XLY) sector. In this part, we'll cover the firm's key strengths and weaknesses. And in the next, we'll focus on its opportunities and threats.
Article continues below advertisement
Article continues below advertisement
Under Armour's key strengths
As explained in Part 16, United Armour, or UA, has demonstrated steady growth for the past five years, one of the biggest positives in the firm's growth story (IWP)(RPG). Other key strengths are the development and launch of new products and a growing product portfolio. This keeps the UA brand competitive and visible in the marketplace.
The company's also been launching highly visible marketing campaigns, top-profile endorsements, and publicity blitzes, all of which keeps the brand in the limelight. Publicly competing with the likes of NIKE, Inc.—for Kevin Durant—and Adidas AG (ADDYY)—for English soccer club Manchester United—creates recognition in the public eye. Although UA lost out on both bids, the attempts signal that the brand is ready to compete with the larger players on a global scale.
UA and NIKE, Inc. (NKE) are components of the S&P 500 Index (SPY).
Under Armour's weaknesses
The company has yet to establish itself around the world. Over 90% of its 2013 revenues came from North America. UA also doesn't manufacture its own products. This leaves the company vulnerable to disruptions in its supply chain that may or may not be under its control. It also lacks a personal fitness device like the NIKE FuelBand.
UA is vulnerable to business cycles. The 2008 recession took a toll on company earnings, as you can see in the chart above. Its products are categorized as consumer discretionary (XLY) items. Such products tend to do well when the economy is expanding and employment and wages are increasing. But they tend to take a back seat in terms of consumer priorities during a recession.
Currently, the US economy is in expansion mode. Non-farm payrolls increased to a much larger-than-expected 321,000 in November. Growing employment and an expanding economy present an opportunity for the company to expand sales in its most important market, the US. Read about other key opportunities in the next part of this series.