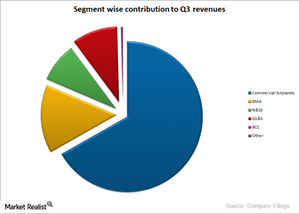 An overview of BA's business segments
Boeing's business segments
Boeing (BA) has two major business segments: Boeing Commercial Airplanes (or BCA) and Boeing Defense, Space & Security (or BDS). The company forms almost 5% shareholding of the SPDR Dow Jones Industrial Average ETF (DIA).
The following support units work in concert with BA's business segments:
Boeing Capital Corporation, a global provider of financing solutions
Shared Services Group, which offers a range of services worldwide
Boeing Engineering, Operations & Technology, which helps develop, acquire, apply, and protect innovative technologies and processes
Article continues below advertisement
Article continues below advertisement
The BCA business segment
Boeing's most successful business segment, BCA contributed 66.83% of the company's revenue in 3Q14. This segment is a strong competitor of the aerospace division at General Dynamics (GD).
BCA designs, develops, produces, and markets the company's commercial jetliners, which meet the passenger and cargo requirements of airliners worldwide. The segment manufactures the Boeing Business Jet and the 737, 747, 767, 777, and 787 families of airplanes. BCA's latest products include the Boeing 787-10 Dreamliner, the 737 MAX, and the 777X.
Roughly 75% of the world's total airline fleet comes from BCA. Boeing also offers the most complete family of freighters; about 90% of the world's cargo is carried on Boeing planes.
The segment offers the following services to commercial and government customers around the world:
aviation support
aircraft modifications
spares
training
maintenance documents
technical advice
BCA instructs maintenance and flight crews in the 100-seat and above airliner market through Boeing Training & Flight Services, the world's largest and most comprehensive provider of airline training.
The BDS business segment
BDS designs, produces, modifies, and supports military fixed-wing aircraft, rotorcraft, weapons, and satellite systems. The segment has a broad portfolio that includes the 702 family of satellites, the AH-64 Apache helicopter, cybersecurity, the EA-18G electronic attack aircraft, the KC-46 aerial refueling aircraft, the P-8 anti-submarine and anti-surface warfare aircraft (which is based on the 737 commercial jet), and the Phantom Eye unmanned aircraft system (which uses liquid hydrogen fuel).
The BDS segment can be divided into three capability-driven businesses:
Boeing Military Aircraft (or BMA) researches, develops, produces, and modifies manned and unmanned military weapons systems for strike, mobility, airborne surveillance, and reconnaissance.
Network & Space Systems (or N&SS) creates products and services related to Boeing's electronics, information, strategic missile, defense, space, and intelligence systems. It competes with the government systems division at Rockwell Collins (COL). N&SS also handles operations for Boeing's United Space Alliance joint venture with Lockheed Martin (LMT). To learn more about LMT, read An investor's introduction to Lockheed Martin Corporation.
Global Services & Support (or GS&S) offers a range of products and services through integrated logistics, including supply chain management and engineering support; asset management solutions; maintenance, modification and upgrades for aircraft; training systems for pilots, maintenance crews, and aircraft platforms; and government services. International operations for GS&S include Boeing Defense U.K. Ltd., Boeing Defense Australia, and Alsalam Aircraft Company. GS&S competes with the integrated defense system division at Raytheon (RTN).
The next article in this series will look at the financial performance of BA's business segments.