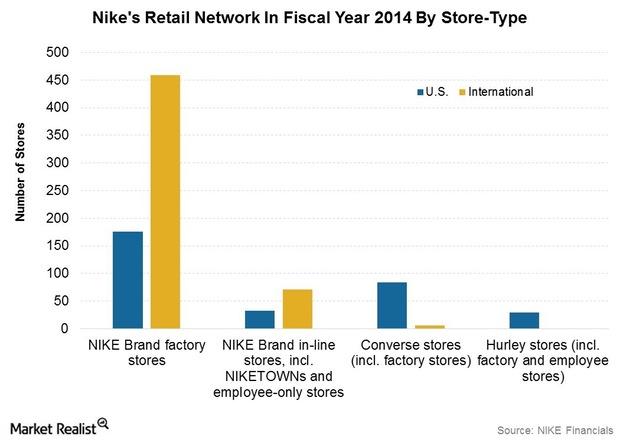 NIKE Scores Big Leveraging E-commerce, Retail Channels
Overview of NIKE's selling channels
Article continues below advertisement
Rising impact of DTC sales
DTC sales came in at $1.4 billion in 2Q15, growing 18% year-over-year. The ratio of DTC sales to total sales rose to 21.3% in 1Q15, up from 20.3% of total sales in fiscal 2014.[1. Year ending May 31, 2014] As a percentage of total sales, NIKE's rivals in the space had significantly higher DTC revenues in the most recent quarter:
The percentage of sales sold via wholesale channels has fallen in recent years. As noted in our previously published article, The Rational Behind NIKE's Retail Focus, the company is widening its retail footprint and growing e-commerce sales. NIKE's store count stood at 858 stores at the end of fiscal 2014.
Retail as a premium pricing tool
The company's future strategy hinges on using a mix of retail, wholesale, and online channels. Retail channels aim to provide customers with a premium, differentiated brand experience in various categories. In exchange, the company achieve its premium pricing objectives.
At the same time, wholesale partners are creating category destinations such as the House of Hoops for basketball at Foot Locker (FL), or the NIKE Track Club for runners at Finish Line, or the Field House at Dick's Sporting Goods Store (DKS). These product differentiation strategies also allow for premium pricing.