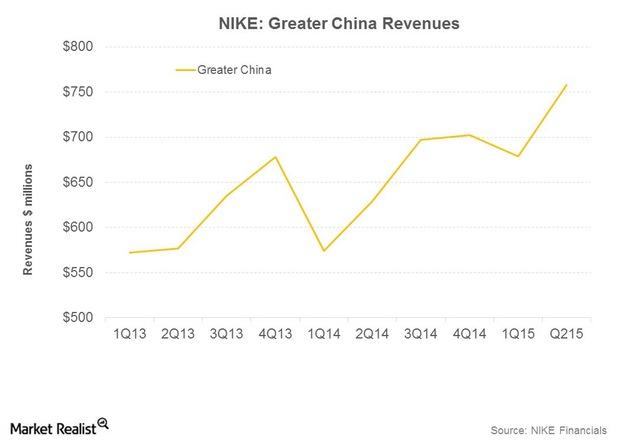 NIKE in Greater China: Strategies That Work
Turning around the humongous Greater China market
NIKE's Greater China segment is seeing a minor turnaround. Revenues grew 20.5% in 2Q15[1. Quarter ending November 30, 2014– Fiscal year ends on May 31, 2015] to $758 million. Although this is one of NIKE's most profitable segments, profitability dipped in fiscal 2014, as the company faced higher discounts and closeout sales on unsold inventory. Higher overheads due to the company's expansion strategy also played a role in the slide.
Article continues below advertisement
Store changes
The company's reset strategy in China involves taking a more consumer-centric approach, re-profiling both company-owned stores and those owned by other retailers. In terms of product, NIKE is targeting a narrower but customer-focused selection at stores, which is helping it manage inventory levels. Inventory management was a critical issue last year in China.
NIKE's basketball destinations have also gone down well in the Chinese market.
Customer premiums
NIKE plans to leverage the value of its brand among consumers. The company already holds the #1 position for both apparel and footwear in China among sportswear rivals. It's also widely perceived as a premium performance brand.
Brand perception, along with innovative products and improvements on the retail side, has helped the company push price increases in China. That's resulted in positive growth in same-store sales, both at company-owned stores and others, and has also meant higher profitability.
Article continues below advertisement
E-commerce
Earlier this year, NIKE launched its e-commerce website in China. The response exceeded the company's expectations. E-commerce is going to be a key growth driver for the company in the future as online customer engagement increases in China and elsewhere.
Outlook
Higher response on the retail side has brought an upswing in futures orders. Futures orders for Greater China were estimated to be 12% for China in 2Q15, compared to 4% in 2Q14. This bodes well for future revenues through April 2015. Actual revenue growth rates will probably exceed the growth rates embodied by the increase in futures orders, if the growth rate in DTC revenues are considered. The 20%+ revenue growth rate in 2Q15 also points to this trend.
ETFs holding NIKE