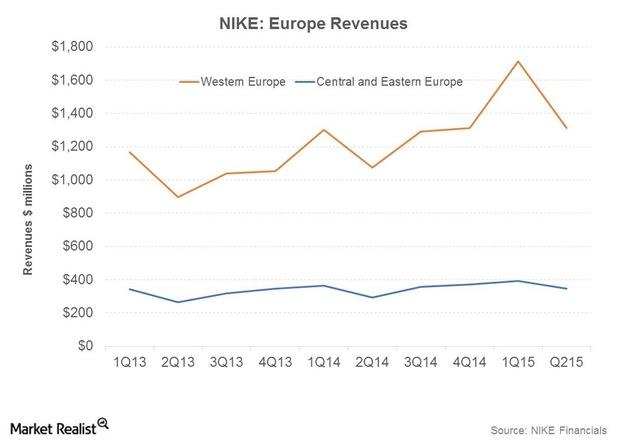 NIKE Defies Macro Headwinds In Europe
NIKE reports strong revenue growth in Europe
NIKE's (NKE) revenues in both Western Europe and Central and Eastern Europe, or CEE, increased sharply year-over-year in 2Q15, exceeding overall growth rates. Western Europe revenues jumped 22.2% to $1.3 billion. Central and Eastern Europe revenues rose 17% to $0.3 billion. Gains were broadly based, with every territory and every category in Western Europe exhibiting double-digit growth rates. In CEE, every territory except Israel grew at a double-digit pace.
Article continues below advertisement
Market transformation
NIKE is in the midst of transforming the Western Europe market. It's looking to improve profitability by increasing the premium on its brand. The addition of targeted and premium retail destinations spiked direct-to-consumer, or DTC, revenues by 40%. DTC revenues also earn higher margins than sales made through wholesale channels.
Retail thrust
NIKE is focusing on creating differentiated retail destinations for its categories across cities in Western Europe. Its wholesale partners Foot Locker (FL), Intersport, and JD Sports are creating category destinations for various sports. These have helped the company expand its market share.
NIKE's seeing particular success in its basketball retail destinations. In the US, NIKE has a 97% share[1. Morgan Stanley, Sportscan] of the basketball footwear market. It will look to replicate its success in Europe.
Article continues below advertisement
Outlook
Economic growth in the Eurozone has fallen drastically this year. The three largest economies of Germany, France, and Italy reported declines in GDP (gross domestic product) in 2Q14 and very low growth in 3Q14. This has impacted returns on ETFs such as the iShares MSCI EAFE Index ETF (EFA) and the iShares MSCI EMU Index ETF (EZU). Yet NIKE's been able to grow revenues in these countries at above-average growth rates, suggesting good strategy execution.
Currency headwinds also persist for NIKE in Europe, as the US dollar (UUP) continues to appreciate against these currencies. Growth in 2Q15 future orders for Western Europe and CEE came in at 13% and 18%, respectively, in constant currency terms. Once the impact of expected currency changes is taken into account, however, growth figures dip to 4% and 6% for these segments.
For more on the outlook for NIKE in different segments, including the Russian market, see Part 15 of this series.