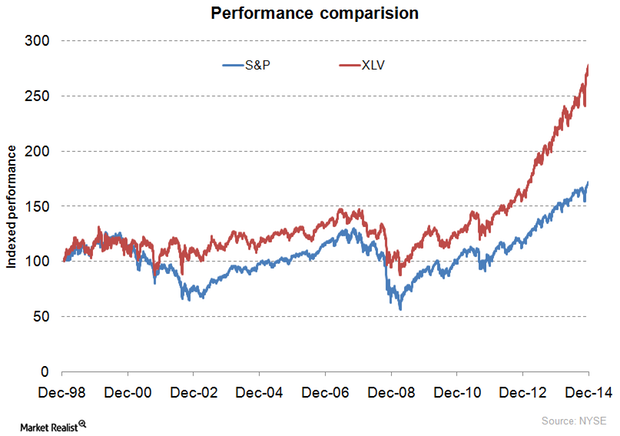 Must-read: Is the US hospital industry truly non-cyclical?
Defensive industry
The hospital sector is widely considered to be a non-cyclical or defensive industry. The demand for hospital services doesn't change with changes in the economic cycle. The sector's performance, especially, is believed to be immune to recessions. This, however, holds true only in cases where demand and supply dynamics alone determine industry performance.
The graph above shows the performance of the S&P 500 versus the Health Care Select Sector SPDR Fund (XLV). Though the Health Care Select Sector SPDR Fund has performed better than S&P 500, it has closely tracked the cycles in the market—especially post-2004. The hospital industry is one of the most regulated industries in the country. This has resulted in changing the nature of the industry from purely non-cyclical or defensive to partial dependence on economic cycles. For more information, please refer to The key economic and social factors affecting hospital revenues.
Article continues below advertisement
Regulation
The government regulates all aspects of the hospital industry, including pricing of services, reporting costs, information technology infrastructure, labor policies, and uncompensated care. The hospital industry differs from other industries where the end user pays for goods and services. In this industry, most payments come from third-party payers such as employers, commercial insurance companies, and government programs.
The Patient Protection and Affordable Care Act (or ACA), passed in March 2010, changed the way in which these payers reimbursed hospitals. It also focused on introducing cost efficiencies to hospitals. In response, major hospital operators like HCA Holdings (HCA), Tenet Healthcare (THC), United Health Services (UHS), and Community Health Systems (CYH) adopted innovative business strategies to deal with these changes. The resulting changes in pricing, patient volumes, patient mix, cost structures, capital expenditures, and bad debts have determined the industry's current structure.