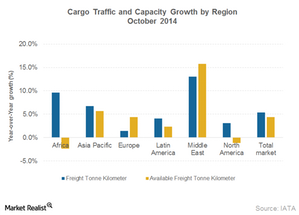 Low yield, utilization drive down air cargo profitability
Recovery of global freight traffic growth
Air freight volume and capacity increased at a higher rate in October 2014 compared to September. According to IATA (or the International Air Transport Association), global air freight volume increased by 5.4% in October and capacity grew by 4.4%. This compares with a 5.2% traffic growth and 3.8% capacity growth recorded in September. Growth in capacity remains slower than volume growth.
Asia Pacific, Europe, and North America account for ~82% of the global cargo traffic. The Asia-Pacific region's market share declined in October to 38.5% from ~40% in September. Europe's market share declined to 22.9% from ~26%, but the North American region's market share increased to 21% from ~15%. The Middle East region recorded the highest volume and capacity growth. Capacity declined in the North American and African markets, while traffic improved in all regions.
Article continues below advertisement
Recovery
Growing trade activity drove the recovery in cargo traffic in emerging markets in Asia, but it was slightly offset by the slowing European economy. Regional trade activity may be negatively impacted by the slowdown in the Chinese economy.
The demand for transportation of cargo is measured by Freight Traffic Kilometers (or FTK). It is similar to passenger Revenue Passenger Miles (or RPM) and is calculated as the weight of cargo in tonnes multiplied by the total distance traveled. Similarly, Available Freight Tonnes Kilometers (AFTK) measures freight capacity, and Freight Load Factor (FLF) measures capacity utilization.
Lower yield, capacity impact profitability
Growth in international traffic, capacity, and load factor is higher than in domestic markets. However, the expansion in international trade was not as great this year despite the strong economic growth since production has been onshored. The freight load factor was 47% in October, much lower than the passenger load factor of 79.1%.
Cargo yield has remained weak and is expected to remain that way, as new aircraft will be delivered in 2015. Although trade volumes have increased, low business confidence may impact any rise in future volumes. Weak utilization and yield resulted in lower profitability.
Cargo revenue
Cargo revenue forms a small portion of total airline revenue of major US airlines, including Delta (DAL), United (UAL), American (AAL), Southwest (LUV), and JetBlue (JBLU). The major portion of revenue comes from passenger services.
An alternate to investing directly in individual airline stocks is to invest through ETFs such as the iShares Transportation Average ETF (IYT) and the SPDR S&P Transportation ETF (XTN).