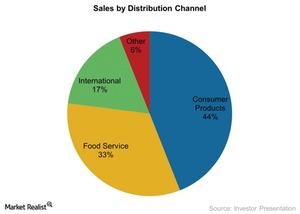 The Long List Of Tyson Foods Customers
Tyson Foods customers
Tyson Foods, Inc. (TSN) reaches its customers through three primary distribution channels. As of fiscal year end 2014, the company's consumer product channel generated 44% of total revenues, the food service channel generated 33%, and the international channel generated 17% of total revenues.
Tyson Foods customers are a diversified lot. They're spread across 130 countries including China, Japan, the Middle East, Brazil, Canada, etcetera. And no single customer represented more than 10% of the company's 2014 sales, with the exception of Wal-Mart, which accounted for 14.6%.
Article continues below advertisement
Article continues below advertisement
Big customers can squeeze Tyson's margins
Big retailers like Wal-Mart have stronger bargaining power and are able to resist price increases, according to Tyson Foods. Some also demand more promotional programs and tailored products.
If commodity costs rise unexpectedly, companies such as Tyson Foods (TSN), Pilgrim's Pride Corporation (PPC), Sanderson Farms, Inc. (SAFM), and Hormel Foods Corp. (HRL) would face squeezing margins. To add to this agony, these companies also compete with the private labels of some big retailers.
When a few customers represent most or all of a company's sales, it's exposed to risk. This isn't the case for Tyson Foods, although it would be materially hurt if Wal-Mart Stores, Inc. (WMT) decided to drop the company.
For broader exposure to some of these companies, try the SPDR S&P 500 ETF (SPY).
Other customers
The company sells its products to a long list of customers:
meat distributors
grocery retailers and wholesalers
warehouse club stores
industrial food processing companies
restaurant chains or distributors that supply these restaurants
international export companies
food service operators

hospitals
convenience stores
school cafeterias
military commissaries
The company also sells through trading companies and independent brokers, which in turn sell to the military and to international markets.
Next, we'll look at Tyson Foods' important commodities and costs.