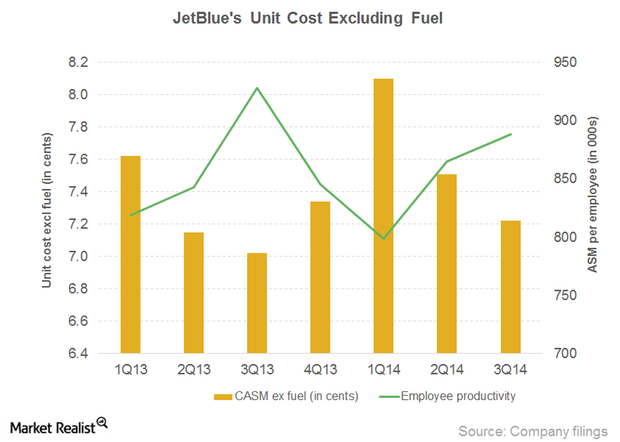 JetBlue's unit cost growth: Employee costs up, lower productivity
Operating cost growth in 3Q14
In 3Q14, total operating cost per available seat mile (or CASM) increased by 1.2% to 11.61 cents from 11.47 cents in 3Q13. Excluding the operating expenses related to LiveTV, which are included in 3Q13, unit cost increased by 2.5% to 11.61 cents from 11.33 cents in 3Q13.
In 3Q14, JetBlue did better than its low-cost competitor, Southwest Airlines Co.(LUV), which had a CASM of 12.39 cents. Legacy competitors also had higher CASM:
The SPDR S&P Transportation ETF (XTN) invests 2.78% of its holdings in JetBlue shares.
Article continues below advertisement
Unit cost drivers
The unit cost increase was driven by a 7.5% growth in salaries, wages, and benefits per available seat mile (or ASM) to 2.71 cents. Landing fees and other rents per ASM also went up by 4.2%. Salary expenses made up ~23% of JetBlue's total operating expenses. Although fuel cost, which made up ~38% of the total operating cost, increased by 2.9% to $515 million in 3Q14, on a per ASM basis, it decreased by 1.3% to 4.39 cents.
Operating expenses excluding fuel
Since fuel prices are largely dependent on the market forces of demand and supply, operating expenses excluding fuel are considered to gauge how a company is able to control other cost components. JetBlue's CASM excluding fuel increased 2.8% to 7.22 cents, primarily due to increases in employee cost.
Salary, wages, and benefits increased as a result of higher wage rates. Airlines have also had to increase headcount to adhere to the new Federal Aviation Administration (or FAA) regulations on flight, duty, and rest.
Although employee productivity increased in 3Q14 compared to 2Q14, it's lower than it was in the previous year. ASMs per employee increased to 889,000 in 3Q14 from 865,000 in 2Q14, yet fell from 928,000 in 3Q13. Revenue per employee has also dipped from 119,000 in 3Q13 to 116,000 in 3Q14. JetBlue's long-term plan is to maintain growth in CASM, excluding fuel and profit sharing, at less than 2%.