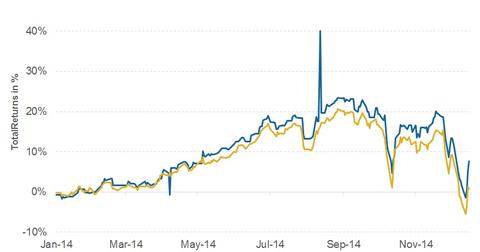 Introducing the UBS ETRACS Wells Fargo MLP Index ETN
By Keisha Bandz

Updated
Underlying index
The UBS ETRACS Wells Fargo MLP Index ETN (MLPW) tracks the Wells Fargo Master Limited Partnership Index (WMLP). The index consists of 65 energy MLPs (including seven general partners or GPs). It lets investors track both prices and total returns for the energy MLP sector. The index is float-adjusted and capitalization-weighted.
Its top constituents include:
Article continues below advertisement
About the ETN
MLPW's performance is linked to the performance of the WMLP. UBS (OUBS), the issuer, defines exchange-traded notes or ETNs as senior, unsecured, unsubordinated debt securities that provide investors with exposure to the total returns of various market indices (in this case, the WMLP), less investor fees.
Based on the cash distributions paid out by the MLPs in the index, the ETN pays a coupon payment to its investors quarterly. The ETN has paid out $1.56 per note in the past year. Let's take a closer look at how the ETN has performed this year
Performance this year
MLPW's year-to-date performance has marginally increased in terms of price from $33.7 to $33.93 per note. Based on its quarterly coupon payment, it's currently yielding ~4.6%.
Series conclusion
All of UBS's ETNs, barring the ETRACS 2x Monthly Leveraged Long Alerian MLP Infrastructure Index ETN (MLPL), are yielding 4%–5%. MLPL's yield is close to 11%.
Except for UBS's (OUBS) short ETN product—the ETRACS 1x Monthly Short Alerian MLP Infrastructure Total Return Index ETN (MLPS)—all the ETNs have shown similar performances. They've risen consistently in the earlier part of the year and fallen in the latter part of the year, mirroring their indices' performance.
MLPS, on the other hand, didn't have a good start to the year. The energy sector was performing well, but when it started to crash in the latter part of the year, MLPS started to rise, given that it tracks the inverse performance of AMZI.
Read more articles on Market Realist's Energy & Power page to learn more about the energy sector.