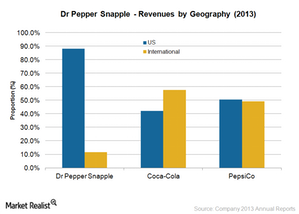 Why international expansion is vital for Dr Pepper Snapple
Growing international markets
Over the past few years, beverage companies such as PepsiCo Inc. (PEP), The Coca-Cola Company (KO), Monster Beverage Corporation (MNST), and Mondelez International, Inc. (MDLZ), have been aggressively expanding their international operations, especially in the emerging economies.
ETFs such as the iShares MSCI Emerging Markets ETF (EEM) provide exposure to large and mid-capitalization emerging market equities.
Article continues below advertisement
Article continues below advertisement
International revenues
In 2013, international operations of Coca-Cola and PepsiCo accounted for 57.7% and 49.4% of their total revenues, respectively. However, Dr Pepper Snapple's operations are significantly concentrated in the United States, which accounted for 88% of 2013 net sales compared to 4% from Canada and 8% from Mexico and the Caribbean.
Growth prospects beyond the United States
The North America region is a mature market for the beverage business, but the carbonated soft drink (or CSD) volumes have been continually declining in the region. This makes it important for Dr Pepper Snapple to grow beyond its US operations.
The demand for beverages in the international markets is driven by growing populations, rising disposable incomes, and the rapidly growing middle class. Also, there is a huge growth prospect for soft drinks in emerging markets where the per capita consumption of beverages is still quite low compared to developed markets. For instance, in 2012, the United States consumed 401 servings of Coca-Cola beverages, where one serving equals eight fluid ounces of finished beverage. However, the per capita consumption of Coca-Cola beverages in India and China were low at 14 and 39, respectively.
Overall, international business is an untapped growth opportunity for Dr Pepper Snapple.