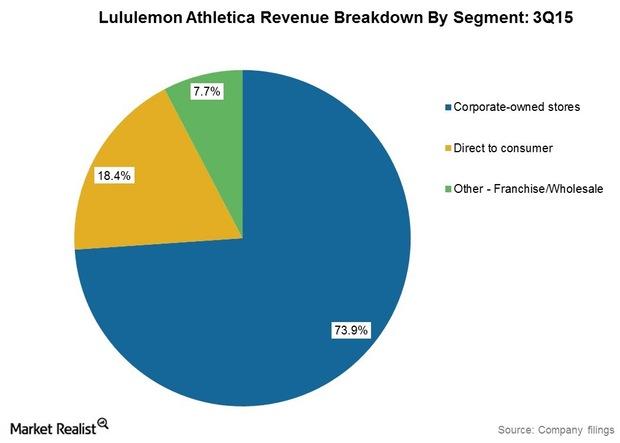 Headwinds And Tailwinds For Lululemon Revenues This Year
Third quarter revenue grows 10.4%
Lululemon Athletica (LULU) announced an increase of 10.4% in its revenues to $419.4 million in the third quarter of fiscal 2015, compared to $379.9 million in 3Q14. Key revenue drivers included:
an increase of 27% in online sales
an addition of 42 new outlets worldwide, including 27 stores in the US and 10 Ivivva stores
Article continues below advertisement
Article continues below advertisement
Negative drivers
However, same-store sales declined by 3% during the quarter on a constant dollar basis. Revenues were also adversely affected by the weaker Australian and Canadian dollars. The quarterly impact of adverse currency movements was estimated at 1.8% or $7.5 million. Currency headwinds are expected to continue as the US dollar appreciates in a weakening global (QWLD) macro environment. This is expected to affect Q4 and full-year fiscal 2015 results as well.
Store traffic
In a mixed indicator, corporate-owned stores reported higher traffic, building on trends seen in Q2. However, conversion rates were lower and so were unit sales per transaction. The company hopes to address this result through a better product assortment in Q4.
Article continues below advertisement
4Q and full-year outlook
LULU is expecting net revenues of $1.765 billion to $1.78 billion in fiscal 2015. In 4Q15, the company is expecting revenues of $570 million to $585 million. This is about $15 million lower than the guidance it provided when its announced its results last quarter. The company expects sales to fall by $10 million on port delays on the West Coast. LULU has ~1 million units log jammed in ports. This factor is delaying inventory from reaching stores, an especially relevant factor in view of the ongoing holiday season.
The opening of LULU's second store in the UK has also been postponed to January, on construction delays. The store was originally expected to open before Christmas.
Positive tailwinds
Major drivers for LULU in the near future include 13 new stores slated to open in Q4—nine in the US, one in Singapore (opened in December), one in the UK, one in Australia, and one Ivivva store.
The US will remain LULU's most important market. US retail sales in October and November rose strongly, shored up by an improving labor market and lower energy prices. This should benefit ETFs like the SPDR S&P Retail ETF (XRT) and the VanEck Vectors Retail ETF (RTH), which include companies like L Brands (LB) and COSTCO (COST) in their portfolios. These factors should provide tailwinds for US retailers. More on these trends further on in this series.
Read about more key growth drivers, including the hot e-commerce category, in the next article in this series.