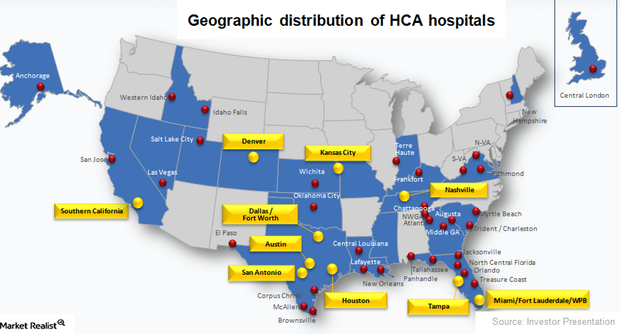 HCA's diversification strategy
Healthcare performance by location
The performance of the healthcare industry, represented by the Health Care Select Sector SPDR ETF (XLV), is dependent on the location and geographic concentration of the facilities.
Article continues below advertisement
Article continues below advertisement
Geographic market selection
HCA Holdings (HCA) focuses on top-performing hospitals in selected geographies. The gold labels on the above graph indicate HCA's top ten domestic markets. HCA's hospitals are primarily located in high-growth urban and suburban markets. Geographic diversification has helped the company maintain its revenues.
Weak performance in some markets is compensated by stronger performance in other markets. This strategy is adopted in varying proportions by other peers in the hospital industry such as Community Health Systems (CYH), Universal Health Services (UHS), and LifePoint Hospitals (LPNT). While Universal Health Services also focuses on urban markets, LifePoint Hospitals and Community Health Systems mainly concentrate on non-urban communities.
Stable economies
HCA Holdings divested many of the non-core businesses after 1997 while retaining a dominant market position in the remaining markets. The company focuses on selecting markets with stable and well-diversified economies.
For example, HCA Holdings has almost a quarter of its total hospitals in Florida, which suffered from severe job losses and the collapse of the housing market in the recession of 2008. However, this impact was mitigated by the other strong markets like Virginia, Colorado, and Texas that were not impacted much by the recession.
Service diversification
HCA Holdings provides about 5% of all US hospital services. Of 165 hospitals, 159 facilities are general acute care hospitals that provide a broad range of services such as internal medicine, general surgery, cardiology, oncology, neurosurgery, and orthopedics. HCA Holdings' diversified suite of services enables it to retain patients at their facilities, which bolsters revenues per patient.