Exploring HCA's ownership structure
Passive investments account for more than 56% of HCA Holdings' total ownership structure.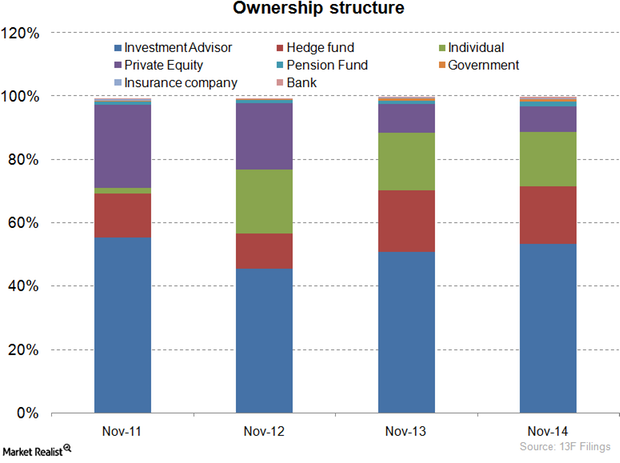 Strong healthcare sector performance
The healthcare sector, represented by Health Care Select Sector SPDR ETF (XLV), has been one of the leading performers in 2014. This has sparked interest of mutual funds, hedge funds, and private equity, which have increased their holdings in healthcare and associated industries.
Article continues below advertisement
Article continues below advertisement
Passive investors
The above graph shows HCA Holdings' (HCA) ownership structure in November 2014, which is dominated by passive investors that are not involved with the company's day-to-day activities. Passive investments account for more than 56% of HCA Holdings' total ownership structure.
Fidelity Management and Research, Longview Partners, and The Vanguard Group are the top three investment research firms or mutual fund investors in the company. Banks, pension funds, government, and insurance companies together account for about 3% ownership in HCA Holdings.
Active investors
Hedge funds, private equity, and individual investors together account for approximately 44% of the ownership. HCA was taken private in a leveraged buyout transaction in 2006 by Bain Capital, Kohlberg Kravis Roberts & Co., Bank of America, Citigroup Inc., and HCA's founder, Dr. Thomas F. Frist, Jr.
In May 2011, the company again went public in an initial public offering (or IPO) valued at $3.79 billion. This transaction more than tripled the 2006 investment of the Frist family and the private equity investors. In 2010, the company also paid dividends worth $4 billion to its shareholders.
Change in ownership
The above graph also shows a change in ownership structure with share of private equity, individual, and hedge fund investment decreasing from 52% in November 2012 to 44% in November 2014. With private equity investors reducing their share in the company, change in strategy and operations is expected.
Reducing individual insider investment from 18.66% in November 2012 to 16.92% in November 2014 may indicate an increase in uncertainty regarding HCA's performance. Peers such as Tenet Healthcare (THC), Community Health Systems (CYH), and LifePoint Hospitals (LPNT) also have passive investors as the majority shareholders.