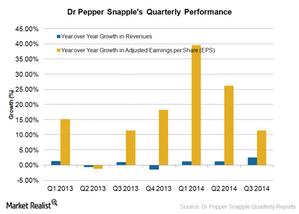 Dr Pepper Snapple's recent performance and the road ahead
Dominant beverage players
The US nonalcoholic beverage space is heavily dominated by The Coca-Cola Company (KO) and PepsiCo Inc. (PEP) with market shares of 34.2% and 25.8%, respectively, in terms of 2013 liquid refreshment beverage (or LRB) volumes. The LRB market includes both carbonated and noncarbonated beverages. Dr Pepper Snapple is the third-largest company in the LRB market with a 10.9% market share.
The performance of these companies in recent years has been impacted by lower soda volumes, challenging macro conditions, and a shift in consumer preference to healthier beverages.
Article continues below advertisement
Article continues below advertisement
Third-quarter 2014 performance
Dr Pepper Snapple's third-quarter revenues increased by 2.6% to $1.58 billion, and adjusted earnings per share (or EPS) increased by 11.4% to $0.98 compared to the prior year quarter. The results were driven by higher prices, favorable segment, product and package mix, and the company's productivity measures.
The company also benefited from increased promotional activities and expansion of its distribution network, which increased the availability of its products.
Updated guidance
Dr Pepper Snapple now expects its fiscal 2014 revenues to increase by 1%. The guidance for adjusted EPS for 2014 was increased to the $3.56–$3.62 range, up from the previous guidance range of $3.43–$3.51. However, investors need to be cautious since the company expects the fourth quarter to be impacted by higher transportation and marketing costs.
Article continues below advertisement
Peers try to improve profitability
Coca-Cola's third-quarter revenues declined by 0.4%, and adjusted EPS was flat at $0.53. The company continued to face difficult conditions in the United States and slower growth in international markets. PepsiCo, which has a strong presence in both food and beverage products, reported a 1.8% increase in its revenues. PepsiCo's third-quarter adjusted EPS increased by 9.7% to $1.36. Both companies are aggressively implementing cost-cutting measures to improve profitability.
ETFs
Dr Pepper Snapple and its key rivals Coca-Cola and PepsiCo are part of several ETFs such as the Consumer Staples Select Sector SPDR Fund (XLP) and the SPDR S&P 500 ETF (SPY).
To know more about the nonalcoholic beverage industry and the trends impacting it, you can read our series on the nonalcoholic beverage industry.