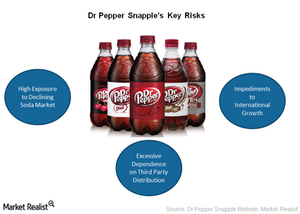 What are Dr Pepper Snapple's major risks?
Key risks
In an industry which is already impacted by fierce competition, Dr Pepper Snapple Group Inc. (DPS) faces some major risks like significant reliance on carbonated soft drinks, limited international growth, and excessive reliance on third-party distribution.
Article continues below advertisement
Article continues below advertisement
Exposure to declining soda market
Rising health awareness and the growing concern about the side-effects of sugary drinks have negatively impacted soda volumes, especially in developed markets such as the United States. Dr Pepper Snapple is quite vulnerable as it derives around 88% of its sales from the US market and its product portfolio is dominated by carbonated soft drinks. In the next part of this series, we'll discuss how the company is growing its product lineup beyond soda beverages.
Impediments to international growth
Dr Pepper Snapple's international growth plans face impediments in the form of licensing agreements signed with other companies for the distribution of its brands outside the United States. As discussed in part four of this series, the company is gradually expanding its distribution network by reacquiring its distribution rights. For instance, in 2013, it reacquired the distribution rights in the Asia Pacific region from Mondelez International, Inc. (MDLZ).
Article continues below advertisement
International expansion also brings certain risks in the form of foreign currency fluctuation, political risks, and regulatory challenges. For instance, Mexico, the world's largest consumer of carbonated soft drinks (or CSDs), imposed a tax of one peso on one liter of sugary soda drinks in a measure to fight the rising obesity in the country.
Will the wolf guard the sheep?
Dr Pepper Snapple's heavy reliance on its key competitors, The Coca-Cola Company (KO) and PepsiCo Inc. (PEP), for distribution of its products gives rise to potential conflicts of interest. There is a risk that the two soda behemoths will give more importance to the distribution of their products and neglect the licensed brands of Dr Pepper Snapple. To avoid this circumstance to some extent, the Federal Trade Commission (or FTC) placed conditions on PepsiCo and Coca-Cola in which they agreed to restrictions on their access to Dr Pepper Snapple's competitively sensitive information.
Dr Pepper Snapple is a part of several ETFs such as the Consumer Staples Select Sector SPDR Fund (XLP) and the SPDR S&P 500 ETF (SPY).