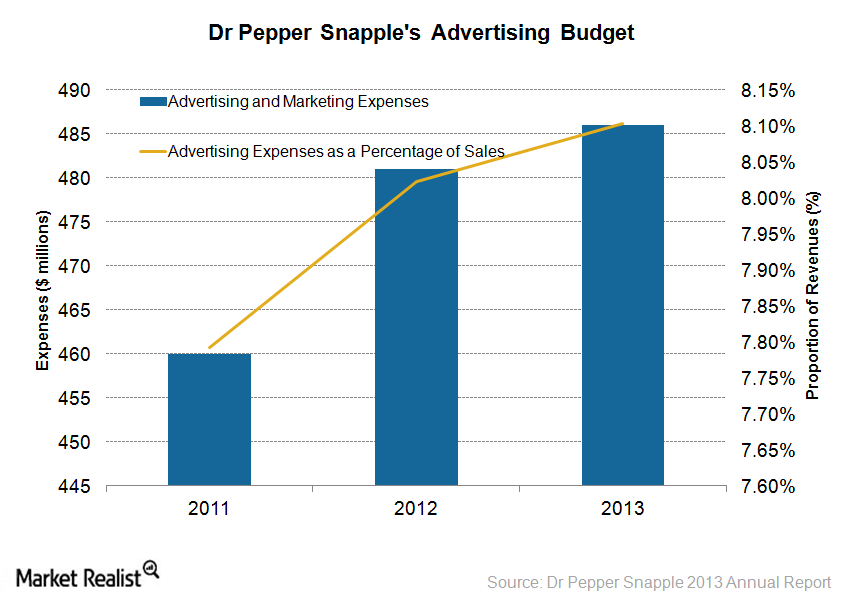 What are Dr Pepper Snapple's growth strategies?
Key strategies
Dr Pepper Snapple Group Inc. (DPS) is focused on sustaining its position as a leading nonalcoholic beverage company in the United States. In addition to improving its margins through its productivity program, the company is implementing other strategies to drive its business, including product development in growth categories like ready-to-drink tea, high-margin products, and visibility for healthier products.
Article continues below advertisement
Article continues below advertisement
Advertising
Difficult business conditions have forced Dr Pepper Snapple to trim down its planned 2014 advertising spending to around 7.5% of sales, compared to 8.1% in 2013. The company plans to create visibility for its low-calorie and healthier products such as the TEN lineup that comprises lower-calorie versions of the key brand Dr Pepper and the company's Core 4 brands, which include 7UP TEN, A&W TEN, Sunkist TEN, and Canada Dry TEN.
The company is focusing its advertising campaigns on the Hispanic community, who are major consumers of carbonated soft drinks. The company sponsored the 15th annual Latin Grammy's held in November 2014. Despite accounting for just 8% of the 2013 revenues, Latin America beverages is an important segment for the company, especially in growth categories like mineral water. The company's water brand Penafiel witnessed a 23% rise in sales volumes in the first nine months of fiscal year 2014.
Soda behemoths The Coca-Cola Company (KO) and PepsiCo Inc. (PEP) continue to spend billions of dollars on advertising. In 2013, Coca-Cola spent about 7.0% of its $46.9 billion in revenues on advertising. PepsiCo spent $3.9 billion, or 5.9%, of its 2013 revenues on advertising and marketing.
These companies are part of several ETFs such as the Consumer Staples Select Sector SPDR Fund (XLP) and the SPDR S&P 500 ETF (SPY).
Article continues below advertisement
Leveraging third-party brands
Dr Pepper Snapple plans to grow into new categories by leveraging its distribution agreements for third-party brands such as Vita Coco coconut water. In the first three quarters of 2014, volumes in the company's water business increased by 8% due to Vita Coco and new distribution arrangements for Bai 5 and Sparkling Fruit2O.
Focus on high-margin channels
Dr Pepper Snapple is increasing its presence in high-margin channels such as convenience stores, vending machines, and small independent retail outlets.
The company also plans to use promotional activity and innovation to push the demand for high-margin products such as single-serve packages for its key brands.