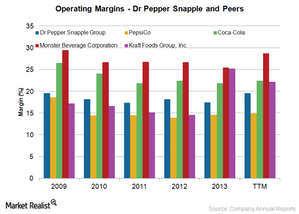 Dr Pepper Snapple makes efforts to improve profitability
Declining volumes are impacting margins
Leading soda makers like The Coca-Cola Company (KO), PepsiCo Inc. (PEP), and Dr Pepper Snapple Group Inc. (DPS), are facing challenging times as consumers are rapidly shifting from soda drinks to healthier beverages. Soda volumes are continually declining, especially in developed markets like the United States.
According to Beverage Digest, the US carbonated soft drink (or CSD) category has lost 1.2 billion cases in volume over the 2003–2010 period. This has adversely impacted profitability of companies like Dr Pepper Snapple.
Article continues below advertisement
Article continues below advertisement
Productivity measures
Dr Pepper Snapple implemented its rapid continuous improvement (or RCI) in 2011 in order to simplify processes and address distribution and the availability gap. RCI aimed to align production with customer traffic patterns.
Using the Lean Six Sigma and Japanese Kaizen approaches for continuous improvement, the company has been able to improve its productivity over the past few months. Through the implementation of 350 Kaizen events that aim to improve an existing process, the company was able to reduce its capital spending by 41% over the 2008–2013 period. The company achieved $169 million in cash productivity between 2011 and 2013.
Peers' efficiency measures
Coca-Cola is streamlining its operations and restructuring its global supply chain. Through its productivity program, the company aims to save $1 billion by 2016, $2 billion by 2017, and $3 billion by 2019.
PepsiCo is cutting costs across its functions and recently extended its $1 billion annual productivity savings target through 2019.
Dr Pepper Snapple and its peers are part of the S&P 500 Index and are included in the holdings of ETFs tracking the Index, such as the iShares Core S&P 500 ETF (IVV) and the SPDR S&P 500 ETF (SPY).