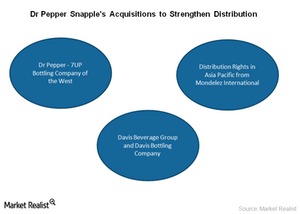 Dr Pepper Snapple strengthens its distribution network
<p>Dr Pepper Snapple is continually strengthening its position as a major beverage company by acquiring regional bottling companies and distribution rights.</p>
Expanding its route to market
Dr Pepper Snapple Group Inc. (DPS) is continually strengthening its position as a major beverage company by acquiring regional bottling companies and distribution rights. This will reduce the company's reliance on third-party distributors such as The Coca-Cola Company (KO) and Pepsico Inc. (PEP) to a certain extent. In 2010, the company signed a 20-year distribution deal individually with Coca-Cola and PepsiCo, for which it received one-time payments totaling $1.6 billion. These deals have automatic 20-year renewal periods and require Coca-Cola and PepsiCo to meet certain performance conditions.
Article continues below advertisement
Article continues below advertisement
Expanding its US distribution network
In March 2013, Dr Pepper Snapple acquired certain assets of Dr Pepper-7UP Bottling Company of the West, which is based in Nevada. The acquisition strengthened the company's distribution rights in the United States, primarily in parts of northern and western California and Idaho.
Dr Pepper Snapple's November 2014 acquisition of Davis Beverage Group and Davis Bottling Co. nearly doubled its distribution in Pennsylvania. This deal gives the company glass package manufacturing capabilities and distribution control of many brands such as 7UP, Snapple, A&W, Canada Dry, and Sunkist in the acquired region. The company also gained distribution rights in the region for third-party brands such as Bai5, FIJI, Vita Coco, and Neuro.
Expanding its geographical reach
In 2013, Dr Pepper Snapple reacquired from Mondelez International (MDLZ) the distribution rights for Snapple and several other noncarbonated beverage (or NCB) brands in certain parts of Asia-Pacific. The deal provided Dr Pepper Snapple distribution rights for the Snapple brand in Australia, Malaysia, Singapore, China, Hong Kong, Japan, and South Korea. The company will also own distribution rights in Australia for Mott's, Mr & Mrs T, Clamato, Mistic, Holland House, and Yoo-hoo.
You can have diversified holdings in beverage companies through ETFs such as the Consumer Staples Select Sector SPDR Fund (XLP) and the SPDR MSCI World Quality Mix ETF (QWLD).