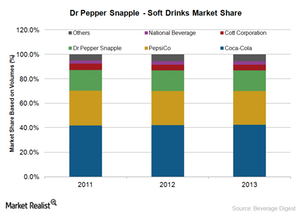 Dr Pepper Snapple is pitted against the soda behemoths
Dominant players
The nonalcoholic beverage industry is ruled by two major players, The Coca Cola Company (KO) and PepsiCo Inc. (PEP). These companies have a presence in more than 200 countries and own strong brands that enjoy huge popularity around the world. Dr Pepper Snapple Group Inc. (DPS), which went public in 2008, has a presence in North America and the Carribbean. You can invest in beverage companies through ETFs such as the Consumer Staples Select Sector SPDR Fund (XLP) and the SPDR S&P 500 ETF (SPY).
Article continues below advertisement
Article continues below advertisement
CSD market share
Coca-Cola continues to be the market leader in the US carbonated soft drink (or CSD) category with a significant market share of 42.4% in 2013. PepsiCo follows with a market share of 27.7%. Dr Pepper Snapple is the third-largest US CSD maker with a 16.9% market share. In 2013, the market share of Coca-Cola and Dr Pepper Snapple increased by 0.4% and 0.1%, respectively, in contrast to PepsiCo, which lost 0.4% of its market share compared to 2012. Dr Pepper Snapple has a strong presence in the flavored or noncola CSD brands.
Smaller scale of operations
Dr Pepper Snapple is quite small compared to Coca-Cola and PepsiCo in terms of its scale of operations and geographical reach. Coca-Cola reported revenues of $46.9 billion in 2013, almost eight times more than Dr Pepper Snapple's revenues of $6.0 billion. PepsiCo derived 48% or $31.9 billion of its 2013 revenues from the sale of beverages and the rest from its food products.
Lack of a strong distribution network
Dr Pepper Snapple lacks the extensive distribution network that Coca-Cola and PepsiCo have. In fact, Coca-Cola and PepsiCo manufacture and distribute certain brands licensed by Dr Pepper Snapple. In 2013, 63% of the volumes of the company's flagship CSD brand Dr Pepper was distributed through the Coca-Cola and PepsiCo affiliated bottler systems.
PepsiCo and Coca-Cola accounted for 26% and 21%, respectively, of the 2013 revenues for Dr Pepper Snapple's beverage concentrates segment. As discussed in a previous part of this series, Dr Pepper Snapple is making key acquisitions to expand its distribution network.
Coca-Cola and PepsiCo have benefited significantly from the growth of their international businesses. Dr Pepper Snapple's revenues are heavily dependent on the US market, and the company needs to consider international growth opportunities.