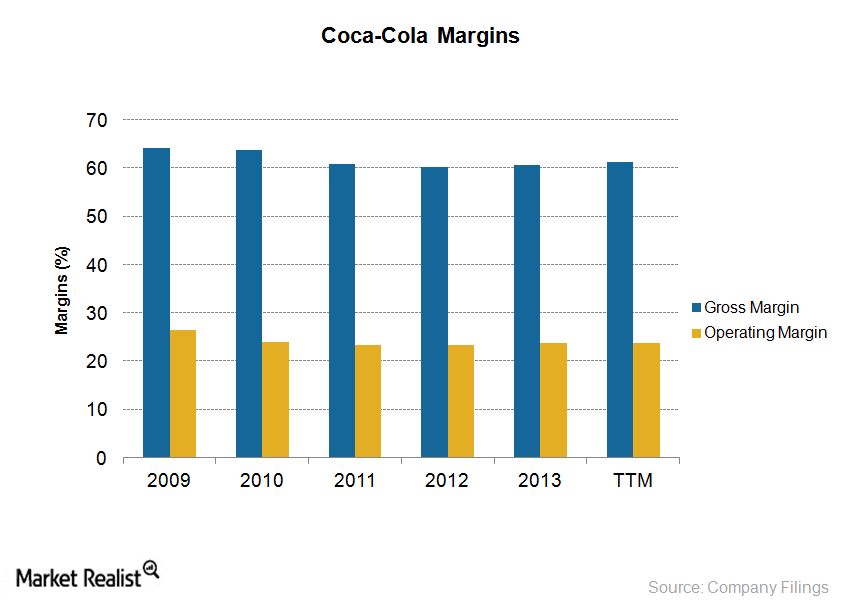 Coca-Cola fights declining margins with productivity measures
Efficiency initiatives
The Coca-Cola Company (KO) has been implementing several efficiency initiatives to offset the impact of adverse market conditions and declining demand for carbonated soft drinks. In 2012, the company announced a four-year productivity and reinvestment program that targeted annualized savings of $550 million to $650 million. The company is optimizing its manufacturing footprint in North America and implementing zeroーbased budgeting.
In 2014, Coca-Cola expanded its productivity and reinvestment program from $1 billion savings by 2016 to $2 billion in annualized savings by 2017 and $3 billion by 2019. The company plans to direct these savings towards incremental media investments.
Article continues below advertisement
Article continues below advertisement
Productivity in peer companies
In 2013, PepsiCo, Inc. (PEP), achieved more than $900 million in productivity savings. The company has extended its objective to reach $1 billion in annual productivity savings per year through 2019. It will reduce costs across procurement, research and development, and other functions.
Dr Pepper Snapple Group, Inc. (DPS) implemented its own rapid continuous improvement program in 2011. It achieved $169 million in cash productivity from 2011 to 2013.
Refranchising distribution network
Coca-Cola has an unrivaled distribution system that helps it reach consumers in over 200 countries. As part of its efforts to optimize its global supply chain, Coca-Cola plans to refranchise about two-thirds of its North American bottling territories by the end of 2017 and a major portion of the remaining territories by 2020. This will help the company reduce costs, as bottling and distribution are a capital-intensive and low-margin business.
Coca-Cola and PepsiCo are part of the consumer staples sector. You can invest in this sector through exchange-traded funds (or ETFs) like the Consumer Staples Select Sector SPDR ETF (XLP). The SPDR MSCI World Quality Mix ETF (QWLD) also has holdings in Coca-Cola and PepsiCo.