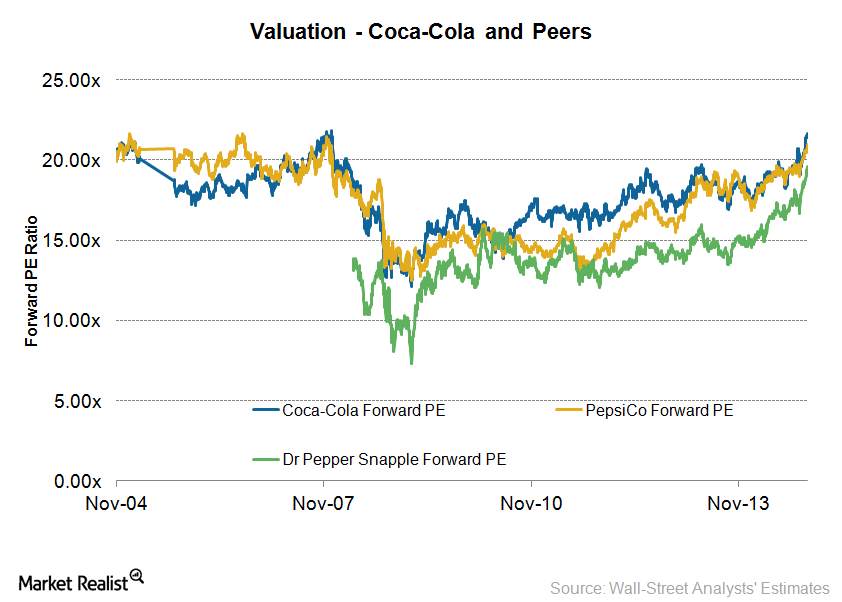 The Coca-Cola Company versus PepsiCo: A battle of giants
<p>The Coca-Cola Company (KO) and Pepsico, Inc. (PEP), are dominant players in the soft drinks market. Both companies own a strong portfolio of liquid refreshments and several brands.</p>
Dominant players
The Coca-Cola Company (KO) and Pepsico, Inc. (PEP), are dominant players in the soft drinks market. Both companies own a strong portfolio of liquid refreshments and several brands that generate more than $1 billion in revenues. The two soft drink behemoths have extensive distribution networks and geographic presence in over 200 countries.
Article continues below advertisement
Article continues below advertisement
Valuation
We use the price-to-earnings (or PE) ratio to value mature companies like Coca-Cola and PepsiCo that are similar from a shareholder's standpoint. Between late 2010 and 2012, Coca-Cola was trading at a higher PE ratio. But since early 2013, PepsiCo is trading at similar PE multiples as Coca-Cola.
PepsiCo's revenues increased by 1.4% in 2013 and its diluted earnings per share (or EPS) increased by 10.2%. However, Coca-Cola's revenues declined by 2.4% and its diluted EPS declined by 3.6% in 2013.
PepsiCo is more diversified
Unlike Coca-Cola, which focuses only on beverages, PepsiCo has a strong presence in the snack food category. This diversified model helps PepsiCo fare better through the current challenging times, when soda demand is continually declining. In 2013, PepsiCo's food business accounted for 52% of its $66.4 billion revenues and includes well-established brands like Quaker, Lays, and Cheetos. Snacks and beverages are complementary food categories, and PepsiCo benefits from this combination.
Article continues below advertisement
Coke's dominance
According to Beverage Digest, in 2013, Coca-Cola held a 34.2% share of the liquid refreshment beverages (or LRB) market, which includes carbonated soft drinks (or CSD), bottled water, and non-carbonates like sports drinks, ready-to-drink teas, and juice drinks. Pepsico held 25.8% of the LRB market.
Coca-Cola is the undisputed leader in the CSD market, with a share of 42.4% in 2013. It's ahead of Pepsico, which had a 27.7% market share. In 2013, Coca-Cola's CSD volume was down by 2.2%, while PepsiCo declined at twice that rate, 4.4%. Dr Pepper Snapple Group (DPS) held the third-largest US CSD market share at 16.9%.
Coca-Cola's leading brands, Coca-Cola (or Coke) and Diet Coke, led the CSD market with 17.4% and 9.0% market shares, respectively, in 2013. PepsiCo's key beverage brands, Pepsi and Mountain Dew, trail Coca-Cola's brands with a market share of 8.9% and 6.9%, respectively.
Investing in soft drink companies