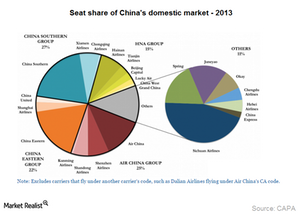 China Southern one of Chinese aviation industry's Big 3 players
Market share by capacity
The Chinese aviation industry is dominated by three state-owned airlines, namely China Southern, China Eastern, and Air China. They comprise the Big Three airlines and along with the HNA Group, they accounted for ~90% of the domestic market share by capacity.
In FY13, China Southern (ZNH) comprised 27% of the seat share, China Eastern (CEA) comprised 22%, Air China Group (AIRYY) 25%, and HNA Group accounted for 15% of the total domestic capacity. Refer to the chart below for the shares of smaller independent players.
Article continues below advertisement
Article continues below advertisement
Growth declines due to slow economic growth
The global financial crisis in 2008 hit China's airline industry after it enjoyed double-digit growth in passenger traffic for more than a decade. Growth recovered in 2009 and 2010, but slowed down again after 2011 due to weakening of global economies. In 2013, the newly formed government further impacted the airline industry in China.
According to the Centre for Asia Pacific Aviation (or CAPA), the newly organized government cut political expenses, which led to a 10% to 20% decline in premium travel that was largely government-linked.
Structural inefficiencies of Big Three
China's airline industry currently faces structural challenges that has led to excess capacity, resulting in lower utilization rates and yields. Apart from slowing economic growth, government policies that require the state-owned airlines to meet certain volume targets have incorporated inefficiencies into the system. Plus, there is less flexibility to adjust capacity to accommodate changes in demand, due to the rigid aircraft distribution policy.
However, the entry of new private and low-cost carriers could have a positive impact by bringing in competition and forcing the bigger players to improve efficiency of their operations.
The Guggenheim China Small Cap ETF (HAO) invests in shares of China Southern Airlines. Top ETFs holding shares of US airlines such as Delta Air Lines, Inc. (DAL), United Continental Holdings, Inc. (UAL), and American Airlines (AAL), include the iShares Transportation Average ETF (IYT) and the SPDR S&P Transportation ETF (XTN).