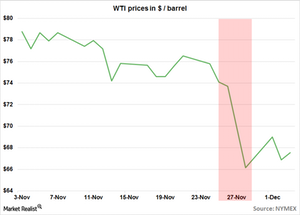 Why the bottom fell out of crude oil
Crude oil trend lately
Crude oil has been in a downward trend since it hit a peak in mid-June. As disrupted supply from the Middle East and North Africa came back, world demand failed to tick up strongly enough to absorb the growing supply.
Also, no discussion on crude oil's decline would be complete without mentioning the United States' role. Global demand has mainly been overwhelmed by a supply contribution from the US—now close to a three-decade high. The supply was driven by a shale boom.
Article continues below advertisement
Why the bottom fell out of crude oil
So, we already had a situation where crude oil had been drifting downwards as supply started to outstrip demand. What caused the sharp drop at the end of November?
Well, as we discussed in "Why investors should watch OPEC production numbers," Organizations of the Petroleum Exporting Countries (or OPEC) is a group of nations that export oil. Historically, OPEC played the role of "balancer" in the world crude oil market. OPEC's largest member is Saudi Arabia. Saudi Arabia usually cuts production when prices fall. It boosts production as prices increase.
So, oil markets had been watching what OPEC would do in its November 27 meeting. Crude oil fell ~30% since June.
It decided to stay production levels. Crude oil dropped ~10% after the news. The decrease is shown in the above graph. The decrease it highlighted in the graph.
Analyzing the event
Major OPEC and non-OPEC producers felt that cutting production may not help curb prices. It would cause them to lose market share as other independent producers—like American companies—continued to grow supplies. Elevated prices were supported at a cost to these producers.
The move is negative for relatively higher-cost American oil producers like Rosetta Resources (ROSE), Whiting Petroleum (WLL), Concho Resources (CXO), and Continental Resources (CLR).
Understandably, the SPDR S&P Oil & Gas Exploration & Production ETF (XOP) also took a lot of the heat. Currently, it's down ~40% from its high in June.