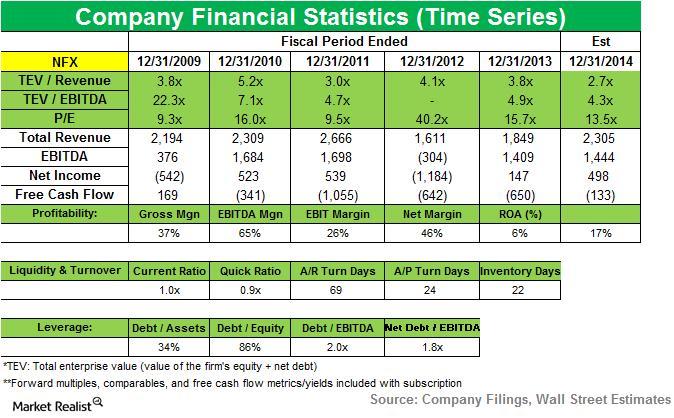 Balyasny exits position in Newfield Exploration Co.
Balyasny Asset Management and Newfield Exploration Co.
Balyasny Asset Management (or BAM) added new positions in Occidental Petroleum Corp. (OXY), Norfolk Southern Corp. (NSC), and Pioneer Natural Resources Co. (PXD) in 3Q14. The company sold positions in Chicago Bridge & Iron Co. N.V. (CBI), Newfield Exploration Co. (NFX), and Encana Corp. (ECA). BAM added to its positions in Canadian Natural Resources (CNQ), Baker Hughes Inc. (BHI), and Dollar Tree Inc. (DLTR). BAM lowered its positions in Starwood Hotels and Resorts (HOT).
BAM exited its position in Newfield Exploration Co. in 3Q14. It accounted for 1.31% of BAM's second quarter portfolio.
Article continues below advertisement
About NFX
NFX is an energy company. It's engaged in the exploration, development, and production of crude oil, natural gas, and natural gas liquids (or NGLs). Its areas of operation include Mid-Continent, the Rocky Mountains, and onshore Gulf Coast.
Third quarter results missed estimates
For 3Q14, NFX reported consolidated net income of $278 million, or $2.02 per diluted share. Net income from continuing operations was $72 million, or $0.52 per share. This was excluding an unrealized gain on commodity derivatives of $323 million, or $1.50 per share. It was $207 million after tax.
During the third quarter, NFX closed on the sale of non-strategic assets. It received $602 million in proceeds. The proceeds were used to retire the company's long-term debt.
NFX's net production from continuing operations in 3Q14 was ~12.7 million barrels of oil equivalent (or MMboe). In the third quarter, production for domestic liquids was up 38%—compared to 3Q13. Liquids accounted for ~56% of the total third quarter domestic production.
Article continues below advertisement
For the full year 2014, NFX's planned capital expenditures, excluding capitalized internal costs, are estimated to be ~$1.75 billion. The previous guidance was $1.7 billion. The increase is mainly related to the addition of 25,000 net acres, increased drilling activity in STACK, and a significant increase in SCOOP non-operated drilling activity.
NFX sells its Granite Wash Assets
During the second quarter, NFX signed an agreement to sell its Granite Wash assets to Oklahoma City-based Templar Energy LLC. Templar Energy is operating through Le Norman Operating LLC. It sold the assets for $588 million. The sale had an effective date of July 1, 2014. The sale closed in 3Q14.
NFX's assets in the Granite Wash include ~42,000 net acres. The net daily production was nearly 65 million cubic feet per day. Of the net daily production, ~60% was natural gas. Proved net reserves at the end of 2013 were ~38 MMboe. NFX intends to use the proceeds from the sale to call its 71/8% Senior Subordinated Notes due in 2018.
The next part of this series will review BAM's exit from ECA.