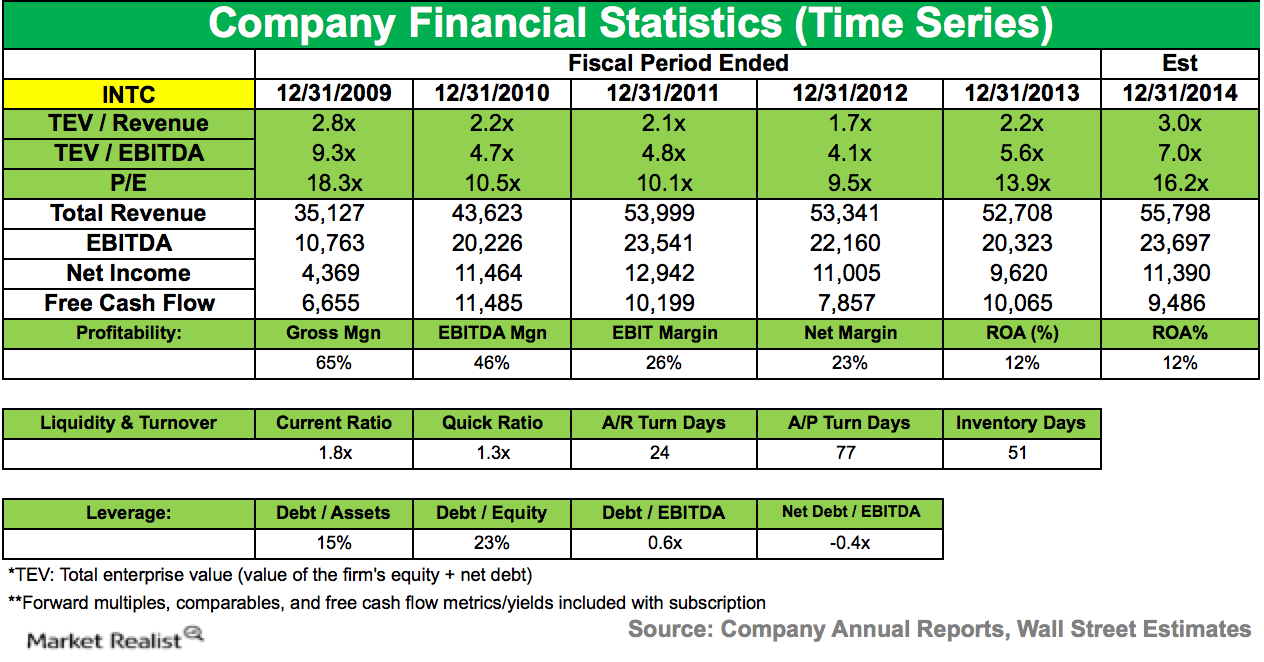 AQR Capital increases stake in Intel
AQR ups stake in Intel
AQR Capital increased its position in Intel during the third quarter of 2014. The stock accounts for 0.72% of the total portfolio, up from 0.34% of the fund's 2Q14 portfolio.
Article continues below advertisement
Article continues below advertisement
About Intel
Intel Corporation was founded in 1968 and is headquartered in Santa Clara, California. It is the largest semiconductor maker in the world based on revenues. Intel has a diverse array of computing offerings:
Advanced integrated digital technology platforms
CPUs (or central processing units) for the PC and server markets
Chipset and motherboard products for computers and communication products
Flash memory through its IM flash technologies (or IMFT) NAND flash joint venture with Micron
Best-ever revenue and strong profits in 3Q14
Intel's revenue was $14.6 billion, up 8% year-over-year (or YoY). Non-GAAP (or generally accepted accounting principles) net income was $3.3 billion, or $0.66 per share, compared to $2.9 billion, or $0.58 per share, as demand for personal computers stabilized. Operating income was $4.5 billion, up 30% YoY.
In 3Q14, Intel shipped over 100 million units of PCs, servers, Internet-of-Things products, phones, and tablets.
Article continues below advertisement
Dividends and share repurchase
Intel generated ~$5.7 billion in cash from operations. The company paid quarterly dividends of $1.1 billion and repurchased 122 million shares for $4.2 billion.
Struggle in smartphones and tablets
Intel wants to expand into the smartphone and tablets market, which currently accounts for a tiny portion of its business. The company's mobile and communications group reported an operating loss of $1.04 billion on revenue of $1 million. The loss was a result of subsidies the company paid to tablet makers to use Intel chips.
In late September 2014, Intel announced its plans to buy a 20% stake in Spreadtrum Communications and RDA Microelectronics. Intel also partnered with Rockchip, a company that uses Intel chips in its products.
Intel has recently achieved a new mobile milestone, as Lenovo selected Intel chips to handle two key functions in mid-range smartphones. With these moves, Intel aims to establish its foothold in the emerging Asian and African smartphone and tablet markets.
Article continues below advertisement
Article continues below advertisement
Google Glass with Intel chip in 2015
In 2015, Google is launching a new model of its Glass headset, which will be powered by an Intel chip. It will offer longer battery life than the current Explorer Edition.
Fourth quarter guidance
For the fourth quarter, Intel projected revenue of $14.2 billion to $15.2 billion, with a gross margin of 64%, plus or minus a couple of percentage points. To read more about Intel, please see Market Realist's A detailed overview of Intel.
AQR Capital's other 3Q14 positions
During 3Q14, AQR initiated a position in Bally Technologies. The firm also increased its position in Gilead Sciences Inc. (GILD), Shire Plc (SHPG), Glimcher Realty Trust (GRT), and Biogen Idec Inc. (BIIB). The firm sold positions in AstraZeneca (AZN) and Riverbed Technology Inc. (RVBD).
The next part of this series will explore AQR's position change in Glimcher Realty Trust.