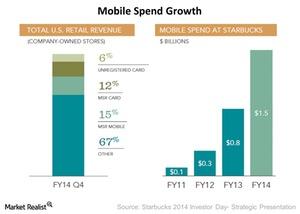 Analyzing Starbucks' Successful Mobile Ecosystem
Mobile ecosystem
In the last part of this series, we learned about the My Starbucks Rewards program. It had 8 million members at the end of fiscal year 2014. The loyalty programs start with a plastic card. Once the card is registered on the Starbucks (SBUX) website, the data is available on other ecosystems—for example, a mobile app.
The mobile app serves a dual purpose. It helps a customer keep track of rewards. The app also helps SBUX push promotions to its customers. In the following chart, you can see why mobile is an important element for SBUX.
Article continues below advertisement
Article continues below advertisement
Mobile is impacting revenues
Two charts are included above. In the left chart, you can see the breakup of US retail revenue by mode of payments for 4Q14. You can see that 6% of the revenues come from unregistered cards. This means the customer refills the card. The customer uses the card to pay for purchases at SBUX. 12% of the revenues come from My Starbucks Rewards cards.
The rewards cards are registered on the SBUX website. 15% of revenues come from mobile. This means that customers are using the mobile app to make payments at the checkout counter. The remaining 67% of the revenue comes from other modes of payments—like cash and bank cards.
Competition in the mobile space
Dunkin' Brands (DNKN) has a similar program. The DD Perks program has 1.8 million members. We discussed this in the last part of this series. Tim Hortons (THI) joined with the CIBC (Canadian Imperial Bank of Commerce) to rollout its loyalty program. These restaurants—along with McDonald's (MCD) and Yum! Brands (YUM)—also have a mobile app, but they aren't as successful as SBUX.
Some of the restaurants mentioned above are also included in the SPDR S&P 500 ETF (SPY).
The right chart above shows the growth of mobile spend over a four-year period at SBUX. For the fiscal year ending in 2014, mobile spends at SBUX were $1.5 billion—compared to $0.8 billion in 2013. This is ~87% growth year-over-year, or YoY.
This shows the huge potential in a strong digital strategy. In the next part of this series, we'll discuss how SBUX is integrating this mobile ecosystem to drive personalized marketing.