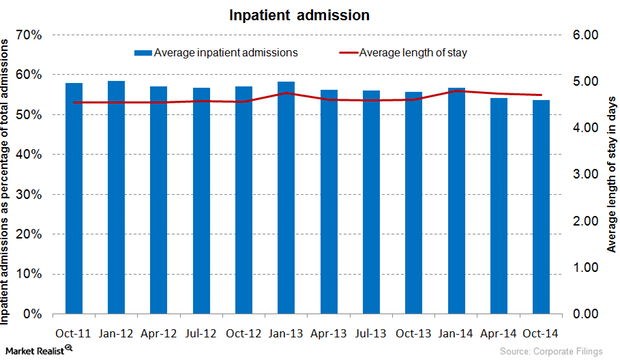 Analyzing the important current trends in hospital admissions
Hospital admissions
Hospital admissions are classified in two categories, inpatient admissions and outpatient admissions. Patients who are admitted for overnight care are called "inpatients," while those who only require medical care for shorter time are called "outpatients."
Article continues below advertisement
Article continues below advertisement
Inpatient admissions
The above graph shows the total number of inpatient admissions as a percentage of equivalent admissions and average length of stay for the four major for-profit hospital operators in the US. Community Health Systems (CYH), HCA Holdings (HCA), Tenet Healthcare (THC), and LifePoint Hospitals (LPNT) are the hospital companies we've used for this analysis. Equivalent or adjusted admissions are a general measure used to indicate combined inpatient and outpatient volumes.
The graph shows that inpatient admissions as a percentage of total admissions have declined from 57.9% in the third quarter of 2011 to 53.6% in the third quarter of 2014. According to a study by financial consulting firm Kaufman Hall, inpatient admissions have declined across all age groups and all service lines by 5% to 8%. The decline is more in service lines such as interventional cardiology, where effective outpatient care options are available.
Hospital companies' increased focus on cost optimization and improving efficiencies has also reduced the average length of stay from 5.0 days in 2009 to 4.55 days–4.75 days from 2011 to 2013.
Outpatient admissions
Following the implementation of the Affordable Care Act (or ACA), the healthcare industry—represented by Healthcare Select Sector SPDR (XLV)—has increased its focus on outpatient operations, as they're more cost-efficient. About 36% of total admissions in for-profit hospitals are outpatient admissions. Hospital companies are capitalizing on this trend by increasing their outpatient facilities organically or inorganically.