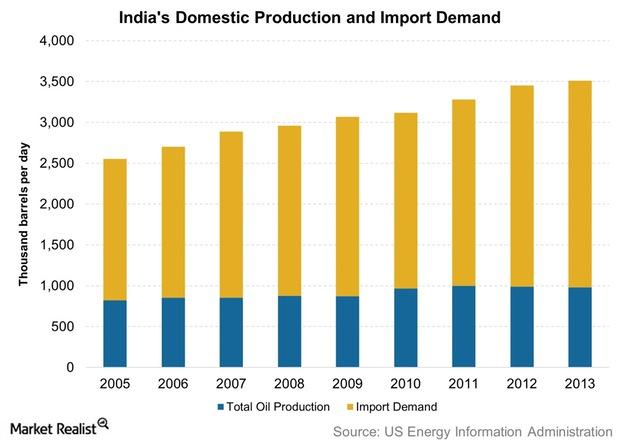 What amount of crude oil does India produce?
Production
India produces a little under a quarter of its crude oil demand. According to the PPAC (Petroleum Planning & Analysis Cell), in fiscal year 2014 the country produced ~37,800 TMT (thousand metric tons) of crude oil. The total consumption for the year was 158,400 TMT. As a result, 77.6% of the requirement was fulfilled by imports. This trend continues to date. In November 2014, India's crude oil production only accounted for 22% of its domestic consumption.
Article continues below advertisement
Article continues below advertisement
Reserves
The EIA (US Energy Information Administration) estimates that India had close to 5.7 billion barrels of proven oil reserves at the beginning of 2014. About 44% of the reserves are onshore resources. The rest of the reserves are offshore resources. However, domestic production of oil remained very slow. It hasn't kept pace with the rising demand.
In the past 20 years, India's petroleum production has been growing at a pace below 2%. According to the EIA, its production peaked at 996,000 barrels per day in 2011. For a requirement of ~3,509,000 barrels per day in 2013, the production was grossly insufficient.
Why has production been low?
The ONGC (Oil and Natural Gas Corporation) has been the dominant upstream producer in India. Its primary drilling site is the Mumbai High Basin—earlier it was the Bombay High. The site is offshore. However, this basin and other basins have become mature. They've witnessed production declines.
As noted in this series, less than half of the crude oil reserves in India are onshore. As a result, upstream companies have to look at offshore reserves. However, that presents technical challenges. It requires companies to enhance their capabilities. This is cost intensive. For this reason, upstream companies have been looking to acquire assets overseas.
Indian oil and gas companies are well represented in Indian ETFs—like the WisdomTree India Earnings Fund (EPI), the PowerShares India Portfolio (PIN), and the iShares MSCI India ETF (INDA)—that have over 10% exposure to these companies.
Some US energy giants—like Chevron (CVX) and ExxonMobil (XOM)—are also present in India. They're known as Chevron Petroleum India and ExxonMobil Gas India.
India is a major crude oil refiner. In the next part of this series, we'll see how India has done in this segment.