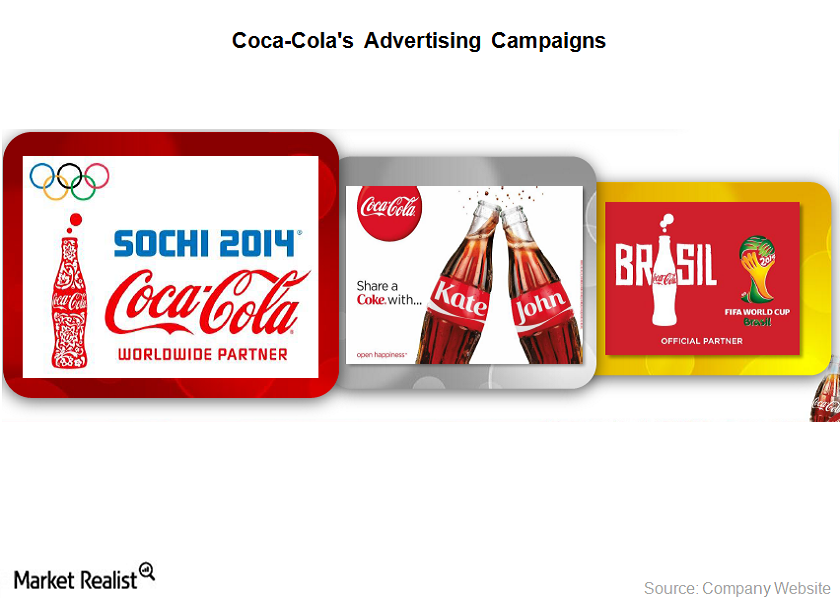 Advertising is a key strategy for Coca-Cola's growth
Significant marketing budget
Advertising and marketing campaigns have considerably increased The Coca-Cola Company's (KO) brand power over the years. In 2013, Coca-Cola spent $3.37 billion, or 7.0% of it's 2013 revenues, on advertising—including in-store activations, loyalty points programs, and point-of-sale marketing.
Article continues below advertisement
Recent campaigns
Coca-Cola was one of the official sponsors of the 2014 winter Olympics held in Sochi, Russia. The company's Olympic game activations, including the longest-ever Olympic torch relay, helped generate 11% growth in Russian unit case volume in 2013.
Coca-Cola was able to connect with millions of fans through the 92,000-mile Coca‑Cola FIFA World Cup trophy tour in 2014. Coca-Cola also achieved major success through the "Share a Coke" campaign, which allowed fans to put their names or those of their family and friends right on the front of Coca-Cola bottles or cans, effectively personalizing the product.
To support its brands further, Coca-Cola planned additional media spending of $400 million in 2014 as part of an incremental $1 billion investment by 2016.
Peers' advertising budgets
PepsiCo, Inc. (PEP), Coca-Cola's closest rival, spent $3.9 billion in advertising expenses and marketing activities, representing 5.9% of its 2013 revenues. Dr Pepper Snapple Group, Inc. (DPS), the third-largest US soft drink maker, spent $486 million on advertising in 2013. Monster Beverage Corporation (MNST), a leading player in energy drinks, incurred $181.8 million in advertising expenses.
You can invest in these soft drink companies through exchange-traded funds (or ETFs) like the SPDR MSCI World Quality Mix ETF (QWLD) and the Consumer Staples Select Sector SPDR ETF (XLP).