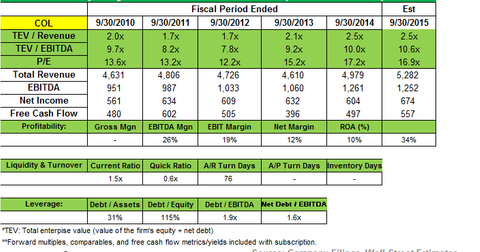 ValueAct Capital lowers stake in Rockwell Collins
By Samantha Nielson

Nov. 27 2019, Updated 1:51 p.m. ET
ValueAct Capital lowers position in Rockwell Collins

According to 13D amendments since July, activist hedge fund ValueAct Capital amended its positions in Dresser-Rand Group (DRC), CBRE Group Inc. (CBG), Rockwell Collins Inc. (COL), Valeant Pharmaceuticals (VRX), and Motorola Solutions Inc. (MSI).
ValueAct Capital lowered its position in COL. An amended 13D filing in November noted that the fund owns 7,803,303 shares. This is down from 12,011,700 shares—according to the fund's 13F filing for the second quarter that ended in June.
The fund also lowered its stake in Rockwell Collins in September to 11,192,328 shares. The latest 13D amendment said the fund owns a stake of 5.8% in Rockwell Collins. The stake was initiated in 2Q11.
Overview of Rockwell Collins
Rockwell Collins Inc. is a leader in the design, production, and support of communications and aviation electronics for commercial and military customers worldwide.
Article continues below advertisement
Its Government Systems business provides a broad range of electronic products, systems, and services to customers including the U.S. Department of Defense, other ministries of defense, other government agencies, and defense contractors around the world. Its sales are categorized into avionics, communication products, surface solutions, and navigation products.
Rockwell's Commercial Systems business supplies aviation electronics systems, products, and services to customers worldwide. The customer base is comprised of original equipment manufacturers (or OEMs) of commercial air transport, business and regional aircraft, commercial airlines, and business aircraft operators. Its sales are categorized into air transport aviation electronics and business and regional aviation electronics.
Rockwell Collins' ARINC acquisition
Rockwell Collins completed the $1.42 billion acquisition of transportation communications specialist ARINC Inc. from investment firm Carlyle Group last year. The acquisition intended to help the company shift from relying on government contracts. The impact of sequestration was taking a toll on its government business.
In connection with this acquisition, a new Information Management Services business segment was formed. This new segment combines ARINC with the Rockwell's flight services business. It had previously been included in the Commercial Systems segment.
Article continues below advertisement
The company also sold its satellite communication systems business, formerly known as DataPath. It's a Kaiser Optical Systems subsidiary. Rockwell said the "decision to sell these businesses is part of an overall strategy to reshape the Government Systems segment to align with the changing dynamics of the defense environment and focus on opportunities in addressed markets for the Company's core products and solutions."
Shares go up in September on fiscal 2015 guidance
Shares increased in September after the company announced guidance for fiscal year 2015. It provided an improved outlook. The board also announced an additional $500 million for share repurchases. The company announced its full year fiscal 2015 results in October.
Full year fiscal 2014 sales were $4.98 billion—an 11% increase from fiscal year 2013. Fiscal year 2014 earnings per share (or EPS) from continuing operations was $4.52—compared to $4.56 last year. ARINC contributed $421 million of sales and $56 million of operating earnings to fiscal year 2014.
For fiscal 4Q14, Commercial Systems sales grew 12% while Government Systems sales fell 5%. Information Management Services (or IMS) sales increased 16% on a pro forma basis. Management said it sees "improving market conditions for our company, but the acquisition and integration of ARINC is exceeding our expectations."
Commercial and IMS businesses to drive growth in fiscal 2015
For fiscal 2015, the company expects revenue between $5.2 billion and $5.3 billion. It expects EPS in the range of $4.90 to $5.10. It anticipates cash flow from operations of $675 million to $775 million.
Under Commercial, Rockwell said it expects sales to aircraft OEMs to increase by high single digits—compared to 2014. Its customers include Airbus Group NV and Boeing Co. Government Systems revenue is expected to be flat. It expects double digit growth in IMS. The growth will be driven by sales related to airline and business aviation.
The next part of this series will highlight amendments to ValueAct's stake in Motorola Solutions.